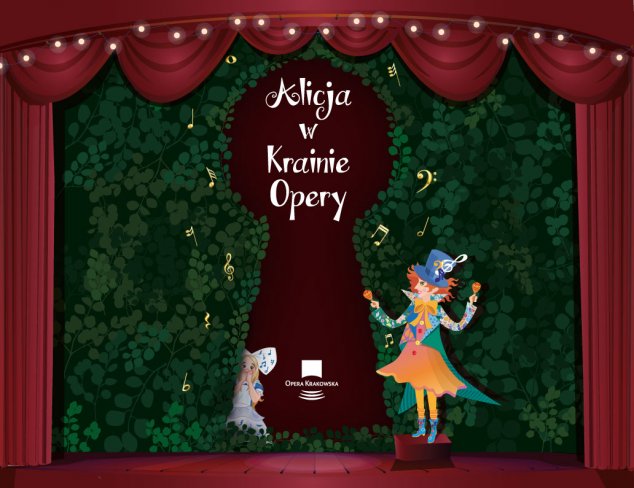 Alice in Operaland
Alice in Operaland
The Kraków Opera offers educational workshops "Alice in Operaland" - a series of meetings for children aged 6-9.
Amusing, mysterious, fabulous meetings which refer to the well-known story of "Alice in Wonderland" are a great opportunity for children to get to know opera from a different perspective. Passing through the keyhole, they will enter a magical land where they will discover operatic secrets. They will dance on an enchanted stave, create an unusual headwear for the Mad Hatter, see costumes and stage designs, learn about instruments, and - thanks to artistic experiments and new technologies – discover the magic of the stage. The amazing world of opera will be shown through the eyes of Alice, a little guide who will talk about it from her point of view - the point of view of a child.

The meetings are held on the Small Stage of the Kraków Opera which turns into a fairy-tale land of sorcery and magic in time of the workshops. The children discover it as supported by Opera Artists and Employees, as well as via unusual interactive games that make opera art friendly and accessible.

The approximately one-hour meetings are held on Sunday mornings - at 10.00 am and 12.00 pm. Children join groups of up to 40. Each part of the series introduces children to a different area of opera, gradually revealing its secrets.
 
The meetings are conducted by Anna Adamus associated with the Kraków Opera for many years as the originator and organiser of many educational and social projects for children, youth, the disabled, seniors, and pregnant women. She collaborates with Bliżej Przedszkola (Closer to Kindergarten), a nationwide monthly, by writing lyrics, scenarios for performances and preparing games for preschoolers. Moreover, she organises workshops for children, such as a series of meetings "Kraków through the eyes of a child" and "The Legends of old Kraków".

The originator, creator and host of the "Matinees", a series of meetings for children, which was awarded by the "Czas Dzieci" (Children's Time) portal with the "Sunflower 2015" statuette in the Music category (September 2015). In 2018 "Matinees" received the Parents' Award in the "Movement" category as the most development-oriented initiative for children in Kraków. A culture manager by profession, a passionate educator, she is currently studying postgraduate Speech Therapy. She is the mother of a 3-year-old girl with whom she runs the CudawiAnki fanpage where she shares her supplies of creativity and positive energy.

The Opera Hatter: Anna Adamus
The Musical Rabbit: Martyna Mystkowska

 
Co-financed by the Minister of Culture, National Heritage and Sport from the Fund for the Promotion of Culture - a state special-purpose fund.