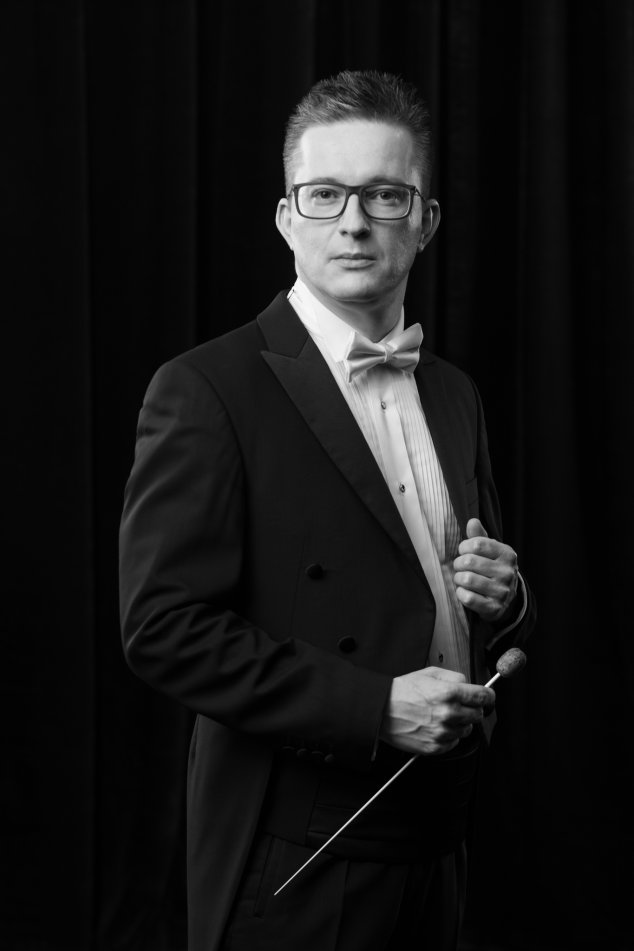 Music Director
Tomasz Tokarczyk
Music Director
Tomasz Tokarczyk
Conductor. Graduate of the Academy of Music in Kraków in the conducting class of  prof. Jerzy Katlewicz and in the violin class of prof.  Ewa Szubra-Jargoń. Conductor and music director at the Castle Opera in Szczecin in 2002-2004. Co-working with the Kraków Opera as a  conductor and music director since 2004. Conducted over 600 opera and operetta performances, including the musical direction of nearly 30 performances. For the Kraków stage, he has prepared such premieres as Ullmann's Der Kaiser von Atlantis, Puccini's Madame Butterfly and La bohème, The Gypsy Baron by Strauss, Verdi's Traviata, Troubadour, Otello and Requiem, Ariadne on Naxos by R. Strauss, The Marriage of Figaro, Così fan tutte by Mozart, Buran Orff's Carmina, The Love for Three Oranges by Prokofiev, Boito's Mefistofeles, Wagner's Tannhäuser, The Tales of Hoffmann by J. Offenbach and also during the Festival of K. Penderecki, The Devils of Loudun. Conducts multiple symphonic and oratorio concerts. His artistic achievements also include world premieres. Cooperates with numerous domestic and international institutions, e.g. with the symphony orchestra in Trondheim (Norway), the Opera and Ballet Theater in Chelyabinsk (Russia), the Institute for the Promotion of Polish Culture, the Polish Sinfonia Iuventus Orchestra, the Beethoven Academy Orchestra, Philharmonic Orchestras: The National, Podkarpacka, Silesian, Kraków, Częstochowa, Szczecin, Lower Silesian, Pomeranian, Koszalin Philharmonic; symphony orchestras from Toruń and Płock; orchestras of the Academy of Music in Kraków and Wrocław, the Wrocław Opera, the Podlasie Opera and Philharmonic, the Baltic Opera and the Silesian Opera, as well as the Grand Theatre in Łódź and the Grand Theatre in Poznań.


Participant of numerous festivals e.g. Wexford Festival Opera (Ireland), Opera Gala Festival (Kuwait), Festival Internazionale delle Orchester Giovanili (Italy), Operaverseny Es Festival Szeged (Hungary), and the Bydgoszcz Opera Festival,  A. Didur Festival  in Sanok and the J. Kiepura  Festival in Krynica Zdrój. Performs with outstanding artists, incl. Andrzej Dobber, Mariusz Kwiecień, Katarzyna Oleś-Blacha, Artur Ruciński, Małgorzata Walewska.


Lecturer at the Academy of Music in Krakow since the 2016/2017 academic year, and since 2019 he has been cooperating with the Academy of Music in Katowice.
His achievements include recordings of theatre and film music as well as CDs:

- Per Due Donne - Oleś-Blacha, Korybalska, Kraków Opera Orchestra, 2017
- Moniuszko - Beata - Soloists, Kraków Opera Choir and Orchestra, 2018
Awarded the "Honoris Gratia" badge by the Mayor of Krakow, the "Polonia Minor" Medal by the Self-government of the Małopolskie Province, and the "Gloria Artis" Bronze Medal for Merit to Culture by the Minister of Culture and National Heritage.


Awarded with the Jan Kiepura Music Theatre Award  in the "Best Conductor" category in 2020.