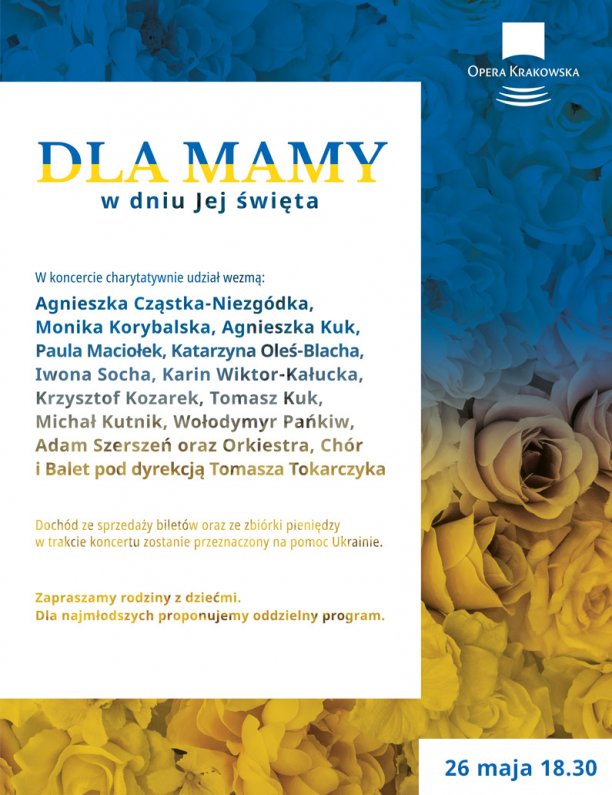 Concert
For Mothers - on Mother's Day
Concert dedicated to all Mothers
1 hours 20 minutes
Available dates
Date
Hour
Place
Informations
Tickets
26 May 18:30, Thursday
26 May, Thursday
18:30
Main Stage
details
duration
1 hours 20 minutes
description
Concert dedicated to all Mothers on Mother's Day. On 26 May, we traditionally express love, respect and special gratitude for the huge, responsible work that motherhood is associated with. And nothing helps in expressing and experiencing deep emotions together like music.

The soloists of the Krakow Opera will perform with music wishes for all Mums: Agnieszka Cząstka-Niezgódka, Monika Korybalska, Agnieszka Kuk, Paula Maciołek, Katarzyna Oleś-Blacha, Iwona Socha, Karin Wiktor-Kałucka, Krzysztof Kozarek, Tomasz Kuk, Michał Kutnik, Wołodymyr Pańkiw and Adam Szerszeń. The soloists will be accompanied by the Choir, Ballet and Opera Orchestra conducted by Tomasz Tokarczyk. All Artists involved in the concert will perform pro bono.

We invite whole families, including children, to celebrate this special day at our Theatre. To meet the needs of Mothers who cannot find care for the youngest children, we invite children to the Opera's Mezzanine, where, under the watchful eye of animators who speak Polish and Ukrainian, they can spend time, and their guardians will relax during the concert. Children's participation in the animations is free. The child's participation should be reported when purchasing tickets for the concert, by contacting the Customer Service Department (phone +48 12 296 62 62, +48 12 296 62 63).

The concert is organised in collaboration with the Zustricz Foundation. The income from the sale of tickets and the fundraiser during the concert will be allocated for Ukraine.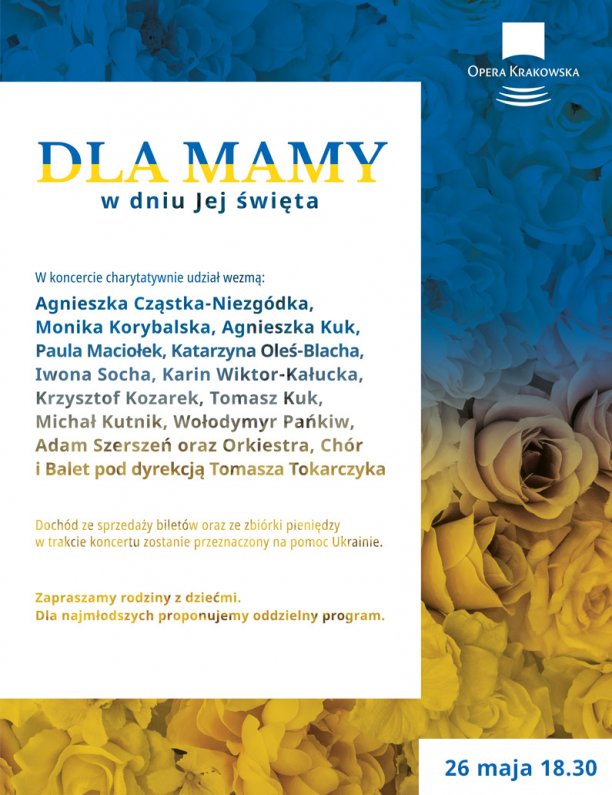 producers
Artistic direction: Bogusław Nowak, Tomasz Tokarczyk, Bożena Pędziwiatr
cast
Agnieszka Cząstka-Niezgódka
Monika Korybalska
Agnieszka Kuk
Paula Maciołek
Katarzyna Oleś-Blacha
Iwona Socha
Karin Wiktor-Kałucka
Krzysztof Kozarek
Tomasz Kuk
Michał Kutnik
Wołodymyr Pańkiw
Adam Szerszeń

Choir, Ballet and Orchestra of the Kraków Opera
conductor: Tomasz Tokarczyk
upcoming performances of this genre