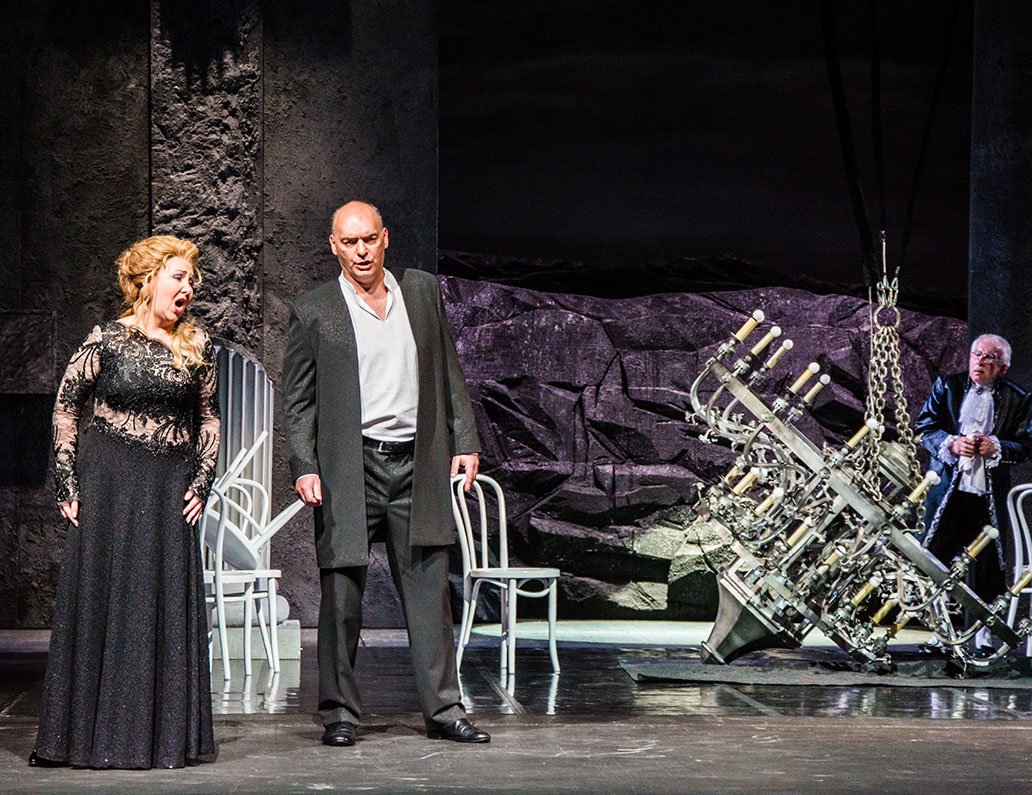 Opera
Tannhäuser
A Romantic opera in three acts
Richard Wagner
Laco Adamik
Tomasz Tokarczyk
3 hours 40 minutes
details
duration
3 hours 40 minutes | 2 intermissions
World premiere
Dresden Königliches Sächisches Hoftheater (Semperoper), 1845, Paris, Opera, 1861
Polish premiere
Warsaw, Teatr Wielki, 1883
premiere at the Krakow Opera
9 June 2016
language
Sung in the original German, with Polish subtitles
description
The composer based his libretto on the old legends of a medieval minstrel-knight who found himself inside the Venusberg (mountain of Venus) where he then lost himself in love's revelry. Still unhappy with his lot, he left the goddess to rejoin humanity, but when he failed to find his place among his own kind, he set out to request audience with the pope, to seek absolution and salvation. When working on his opera, abundant in theatrical elements and dense with meanings, Wagner made Tannhäuser a convincingly human character. Laco Adamik's production moves away from the Romantic convention of staging the piece and brings it closer to our time. It becomes a story not only about love and its varieties, but above all about a man torn between culture and nature, sensuality and spirituality, about the protagonist's maturing on his way to finding himself, the essence of his humanity.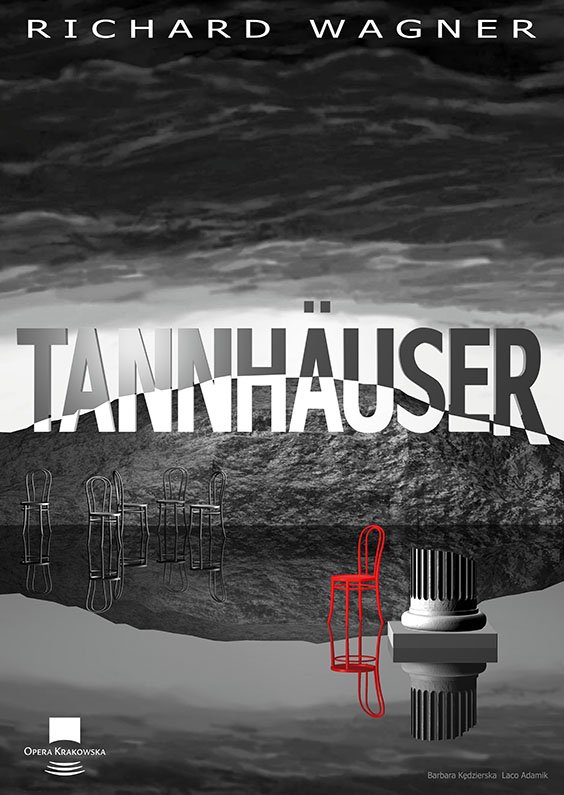 poster by
Barbara Kędzierska, Laco Adamik
producers
Set and costume design: Barbara Kędzierska
Stage movement: Katarzyna Aleksander-Kmieć
Choir master: Zygmunt Magiera
Children's Choir master: Marek Kluza
Lighting design: Bogumił Palewicz

assistant music director: Paweł Szczepański
set and costume designer's assistance: Ryszard Melliwa
director's assistant: Agnieszka Sztencel, Bożena Walczyk-Skrzypczak
stage managers: Justyna Jarocka-Lejzak, Magdalena Wąsowska
prompters: Dorota Sawka, Krystyna Behounek
cast
SOLOISTS, KRAKOW OPERA ORCHESTRA, CHOIR and BALLET
Category B
Amphitheatre
Rows I-III and X-XII
50 zł
Amphitheatre
Side seats and rows XIII - XIV Right-hand and left-hand side boxes (level 1) Balcony level II rows I and II
35 zł
Balcony level II
Rows III and IV
25 zł
ACT I


he cave of Venus (Venusberg). Tannhäuser, a wandering minstrel-knight who did not feel at home at Landgrave Hermann's castle, is now living a life full of pleasure and delight at the side of the beautiful goddess of love. Sirens' singing can be heard from afar and nymphs are dancing with satyrs; there is no end to the bacchanalia. Tannhäuser, however, misses his life among people. He believes that he can be happy only in the real world. Venus does not want to lose her lover, so she encourages him to sing a song in praise of love. The knight concludes each stanza with a supplication to Venus to let him go back to earth (song 'Dir töne Lob!'). The goddess warns him of evil in people. Tannhäuser is determined to go: fighting is his destiny; he does not even fear death. When Venus continues to oppose his departure, he calls the name of Virgin Mary and the kingdom of Venus vanishes. A valley near Wartburg. Tannhäuser wakes up and is enchanted by the view of fields and forests, and the happy song of a shepherd. On hearing the penitent song of pilgrims heading for Rome, he falls to his knees to thank for the grace of return. The praying knight is found by Landgrave Hermann and his hunting party. They are all happy to see Tannhäuser again, but he wants to leave to seek solace in penance. Wolfram asks him to stay with them for the sake of Elisabeth, who became very sad when he left the ranks of the knights. Tannhäuser decides to come back, in hope that the girl's pure love will help him start a new life.


ACT II


The Wartburg Castle. Elisabeth has not set foot in the hall where minnesingers' contests are held since Tannhäuser's departure; now – filled with happiness – she awaits his return (aria 'Dich, teure Halle'). When he is finally brought in by Wolfram, Elisabeth asks him where he's been. Tannhäuser avoids an answer because he does not want to remember Venus. Fanfares announce the arrival of guests. Landgrave Hermann proclaims that the knight who sings the finest love song shall receive Elisabeth's hand in marriage. The first to perform in the contest is Wolfram von Eschenbach, who has long been in love with her. He extols pure and ideal love, to a great applause. Tannhäuser's response is a song about the delights of love that are to be enjoyed to the full. His words outrage Walther von der Vogelweide and Biterolf, but in reaction to that Tannhäuser bursts into a fiery hymn in honour of Venus, which meets with sweeping condemnation. The only one to defend him is Elisabeth. Tannhäuser is aware that his behaviour has made him unworthy of her; the Landgrave proclaims that the minnesinger has to go on a pilgrimage to Rome to confess his sins and beg the pope for forgiveness.


ACT III


The Wartburg Valley. Elisabeth continues to wait for the return of her beloved; her faithful Wolfram keeps her company. The pilgrims come back but Tannhäuser is not with them. With the fall of night the girl begins to pray ('Allmächt'ge Jungfrau'), then she leaves for the castle, in resigned despair. Wolfram intones a song to the evening star (aria 'O du mein holder Abendstern'), the symbol of his unconfessed love for Elisabeth. A solitary emaciated wanderer appears, in whom Wolfram recognizes Tannhäuser. In Rome, the pope told him that his staff would sooner sprout green leaves than the knight's sins were forgiven. Tannhäuser summons Venus once again. The goddess arrives and the knight wants to follow her but Wolfram repeats the name Elisa beth. At this instance, the castle bells announce her death. As Venus disappears, a funeral procession approaches. Torn by pangs of conscience, Tannhäuser dies. The pilgrims' song can be heard from a distance, praising a miracle: green leaves have sprung from their staffs.


Adapted from: Jacek Marczyński, Przewodnik operowy, Warszawa, 2011
upcoming performances of this genre