Opera
The Marriage of Figaro
Opera buffa in four acts
Wolfgang Amadeusz Mozart
Laco Adamik
Tomasz Tokarczyk
3 hours 45 minutes
details
duration
3 hours 45 minutes | 2 intermissions
composer
Wolfgang Amadeusz Mozart
libretto
Lorenzo da Ponte by Pierre Augustin Beaumarchais
World premiere
Wien, Burgtheater, 1.05.1786
premiere at the Krakow Opera
15.06.2012
language
Sung in the original Italian, with Polish subtitles
description
Although it has been over two hundred years since the premiere of "The Marriage of Figaro" which took place on 1 May 1786 in Vienna's Burgtheater, the opera's attractiveness has not faded away. It is the masterpiece of the opera theatre. The great libretto was written by Lorenzo da Ponte and based on a brilliant comedy by Pierre Beaumarchais which turned out to have prophetic inclinations over the coming French Revolution. The music was wonderfully light and sensuous. It mirrored the tensions of action, reflected the atmosphere and was full of humour. The libretto and the music make a unique whole. "The Marriage of Figaro" is an exciting comedy, full of unexpected turns of events. It is a story of erotic intrigue in which characters are perfectly portrayed. What is more, it was the first opera which included a critique of social relations.


The creators of our performance have remained faithful to the Mozart's masterpiece. They accentuate its timeless merits, including in particular the truthfulness of characters, emotions and relations between the characters. At the same time, they do not avoid social issues addressed in the story of marriage between Figaro and Susanna.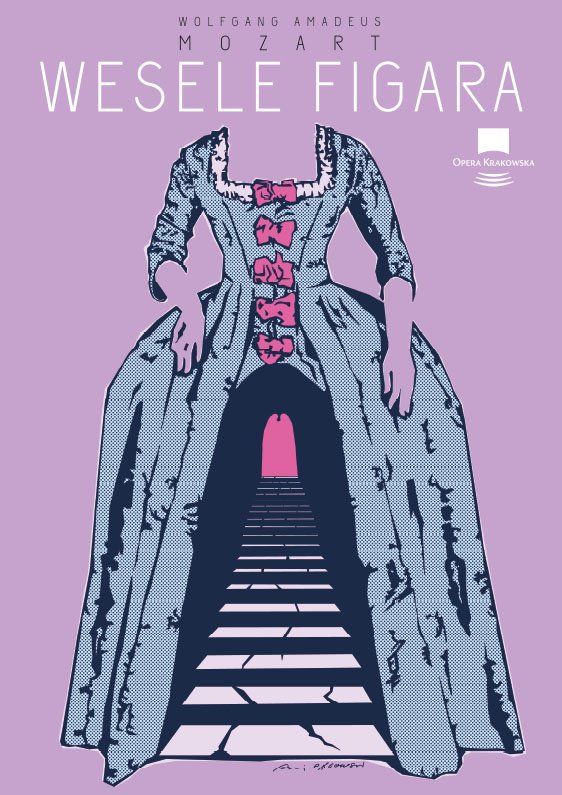 poster by
Andrzej Pągowski
producers
Director: Laco Adamik
Music Director: Tomasz Tokarczyk
Set and Costume Designer: Barbara Kędzierska
Stage Movement Designer: Romana Agnel
Choir Master: Zygmunt Magiera
Lighting: Dariusz Pawelec

Director's Assistant: Agnieszka Sztencel
Music Director's Assistant: Grzegorz Brajner
Set and Costume Designer's Assistant: Izabela Firek
Stage Managers: Anna Jaworska, Magdalena Wąsowska 
Prompters: Krystyna Behounek, Dorota Sawka
Soloist Coaches: Irena Celińska-Głodek, Kristina Kutnik, Olha Tsymbalyuk, Natalia Wasidlow
Choir Accompanist: Magdalena Kurek
cast
COUNT ALMAVIVA | Robert Gierlach

COUNTESS ALMAVIVA | Katarzyna Oleś-Blacha

SUSANNA | Iwona Socha

FIGARO | Wojciech Gierlach

CHERUBINO | Monika Korybalska

BARTOLO |  Wołodymyr Pańkiw

MARCELLINA | Agnieszka Cząstka-Niezgódka

BASILIO | Jarosław Bielecki

DON CURZIO | Krzysztof Kozarek

BARBARINA | Marta Ustyniak-Babińska

ANTONIO | Sebastian Marszałowicz

VALETS | Wiesław Popiołek, Jacek Wróbel

PAINTERS |  Stanisław Knapik, Jarosław Dijuk
Category A
1st seats
Marshal's Balcony
140 zł
2nd seats
Amphitheater rows IV-IX
95 zł
3rd seats
Amphitheater rows I-III and X-XII
75 zł
4th seats
Amphitheater side seats and rows XIII - XIV, Right-hand and left-hand side boxes (level 1), Balcony rows I and II
45 zł
5th seats
Balcony rows III and IV
35 zł
ACT I


A room in Count Almaviva's castle. A young couple of servants, Suzanna and Figaro, are settling down in their new quarters (Figaro's aria 'Cinque, dieci'). He is happy they have been given a superbly-situated room but she dampens his enthusiasm by saying they are staying near their lord and lady's chambers because the Count has amorous designs on her. Gripped by jealousy, Figaro decides to make a fool of his lord (aria 'Se vuol ballare'). Dr Bartolo, on the other hand, intends to take revenge on Figaro, to settle old scores. He is accompanied by his housekeeper Marcellina, from whom Figaro borrowed money some time ago, promising to marry her should he prove unable to repay the loan. Marcellina meets Susanna, which results in a clash between the rivalling women.


Cherubino is terrified because the Count caught him courting Barbarina and chased him away, but in fact the page really adores the Countess, Susanna and all women (aria 'Non so piu'). Cherubino's soliloquy is interrupted by the Count's arrival. The page hides behind an armchair while Almaviva uses this opportunity to get amorous with Susanna, which is frustrated by the approaching Basilio. As the Count seeks a hiding place behind the chair too, the page manages to leap onto the chair. Susanna conceals him skilfully from the Count's eyes. Basilio tells Susanna how Cherubino has been courting the Countess, which makes Almaviva so angry that he abandons his hiding place. Susanna tries to intercede for the page but to no avail; the Count demonstrates how he had found him in Barbarina's quarters the night before and... again runs into the page hiding in the armchair. Cherubino is saved by the arrival of Figaro with some villagers: he wishes to thank the lord for foregoing his droit de seigneur and requests permission to have his and Susanna's wedding ceremony the same day. The Count tries to postpone the decision, hoping to use Marcellina to thwart his servants' plans. He does, however, forgive Cherubino, whom he nevertheless promotes to be a commissioned officer and immediately sends away to a regiment. Figaro gives the page lots of good tips and advice for the road (aria 'Non piu andrai').


ACT II


The Countess's rooms. The Countess asks the god of love to rekindle passion in her husband's heart and extinguish his groundless jealousy (aria 'Porgi amor'). Susanna and Figaro try to comfort her, and even come up with a plan: Figaro will hand the Count a note suggesting that his wife is having an assignation in the garden tonight while Susanna will appoint a meeting with the Count at the same place, but will send Cherubino dressed up as a woman instead. In this way, the Countess will catch her husband red-handed and he will be the one forced to beg forgiveness. All that needs to be done is to bring the page into the conspiracy. When summoned, Cherubino arrives at once, singing a love song ('Voi che sapete'). The women begin to change his costume when the Count comes in. Cherubino manages to hide in the bedroom. The Count has some suspicions: his attention has been attracted by a noise coming from the bedroom. The Countess refuses to unlock the door, which makes him angry. He decides to fetch some tools to pry it open, telling his wife to accompany him, and locks her chambers to render it impossible for anyone inside to leave in the meantime. The page jumps out the window into the garden, and is replaced by Susanna in the bedroom. Upon their return, the Countess admits that the hiding man is Cherubino, which sends Almaviva into a fit of jealous rage. Just then the bedroom door opens and out comes Susanna. Remorseful, the Count asks his wife for forgiveness.


Figaro would finally like to know the date of his wedding but is interrupted by the gardener who comes with a complaint that someone has jumped out of this room's window and broken a flowerpot. The Count becomes suspicious again but Figaro takes the blame. Then Marcellina comes in, demanding justice and enforcement of the promise given to her: either repayment of the debt or marriage. When Figaro refuses to grant her either, the Count, who is also a judge, sets the date for the trial.


ACT III


The castle chambers. Susanna – as planned – pretends to be in love with the Count and makes an assignation with him at night in the garden. Almaviva is happy but then he overhears Susanna's conversation with Figaro and understands that he has become the target of an intrigue. He decides to have his revenge (aria 'Hai gia vinta la causa'). The trial begins. The Count tries to persuade Figaro to either pay the debt or marry Marcellina when, unexpectedly, Figaro turns out to be her son, lost years before, and Bartolo his father. They all embrace one another, filled with joy. Susanna gives Figaro a slap on his face upon seeing him in Marcellina's embrace before she understands what has actually happened. Only the Countess is left in despair again, bidding farewell to her waning love (aria 'Dove sono'). She dictates a letter to the Count, which Susanna takes down, proposing another tryst. The letter is clipped together with a pin which is to be returned as proof of his acceptance.
A group of villagers arrive, carrying flowers. The Count discovers Cherubino dressed up as one of them but cannot be angry with him because Barbarina asks his permission to marry the page, and Almaviva – who once made advances on her – promised to grant her every wish. The wedding march is played for three couples: Susanna and Figaro, Marcellina and Bartolo, Barbarina and Cherubino. Susanna manages to hand the letter to the Count, which is noticed by the jealous Figaro.


ACT IV


The castle garden in the evening. Barbarina is looking for the pin that she has dropped. The Count has told her to pass it on to Susanna. She is helped by Figaro, who gives her another pin, despite surmising the worst of all scenarios. Marcellina wants to warn Susanna while Basilio decries the infidelity of women. Figaro decides to take revenge on his beloved for cuckolding him with her lord. Susanna sings about her happiness ('Giunse alfin il momento'). The Countess, wearing Susanna's dress and waiting for her husband, is courted by Cherubino in the meantime. Then Almaviva arrives and leads his wife, whom he supposes to be Susanna, into a garden pavilion. Figaro, bent on revenge, makes his advances on the Countess, soon to realize he is facing Susanna in disguise, whereupon his protestations of love become even more passionate. On seeing this scene, in which apparently his wife is meeting with a suitor, the Count becomes furious. He won't listen to their pleadings until the moment when the real Countess, dressed up as Susanna, comes out of the pavilion. The Count is then forced to beg her forgiveness and finally consent to the marriage of Susanna and Figaro.


Jacek Marczyński Przewodnik operowy, Świat Książki 2011
upcoming performances of this genre