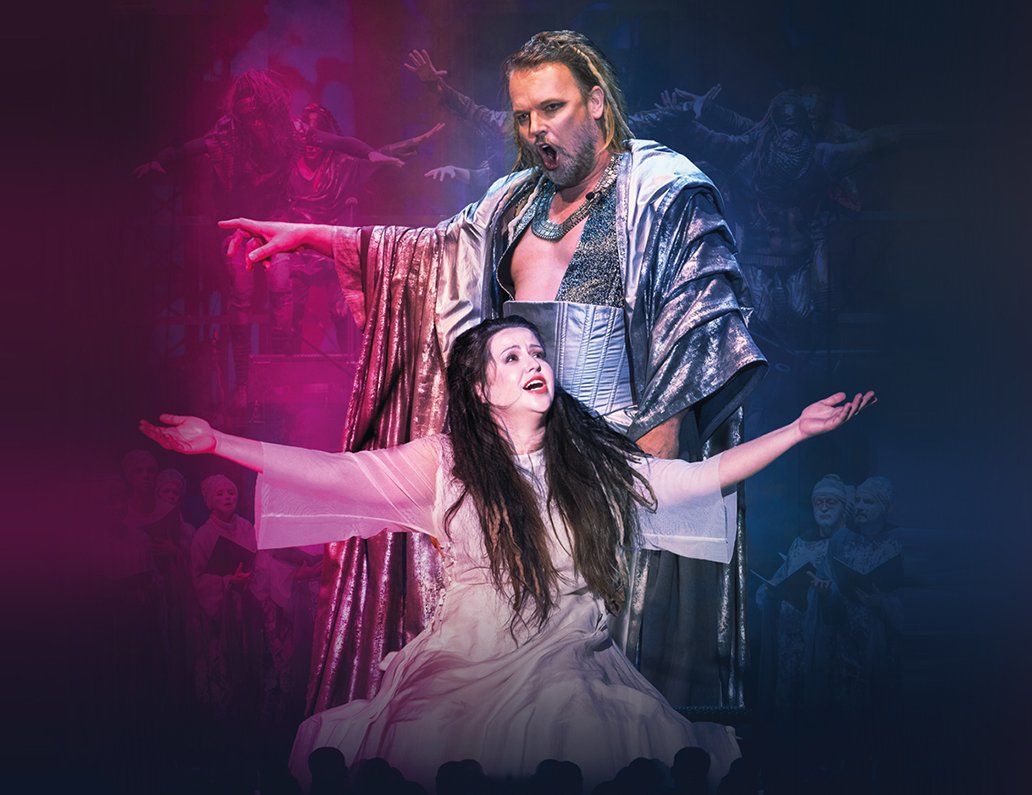 Opera
Wanda
after Cyprian Kamil Norwid
Joanna Wnuk-Nazarowa
Waldemar Zawodziński
Michał Klauza
1 hours 0 minutes
Available dates
Date
Hour
Place
Informations
Tickets
01 April 18:30, Saturday
01 April, Saturday
18:30
Main Stage
02 April 18:30, Sunday
02 April, Sunday
18:30
Main Stage
The performance will be followed by a screening of a documentary film and a meeting with the composer
04 April 18:30, Tuesday
04 April, Tuesday
18:30
Main Stage
05 April 18:30, Wednesday
05 April, Wednesday
18:30
Main Stage
details
duration
1 hours 0 minutes
composer
Joanna Wnuk-Nazarowa
World premiere
Krakow, Wawel Royal Castle 10.09.2021
description
Did Wanda from the Krakow legend really didn't want a German and that's why she threw herself into the Vistula? Not really - she wanted to, she loved, what's more, this German, Rytyger, loved her! So what prevented the marriage of the queen of Lechites with the leader of the Germans? And why did Wanda choose death instead of love and happiness?

So we have a melodrama that is perfect for the content of an opera. No wonder that the figure of the legendary queen was often the subject of stage works, including librettos, which both Kurpiński and Moniuszko tried to write, but only Dvořák managed to complete and stage the five-act opera "Vanda" in Prague (1876).

After almost 150 years, Joanna Wnuk-Nazarowa, a composer and conductor, an outstanding figure of cultural and musical life, reached for the story of the ruler of Krakow, choosing Cyprian Kamil Norwid's drama - a mystery play as the basis for her opera. "Wanda". This is how the second opera piece about Krak's daughter was created. Its staging was prepared by the Krakow Opera in cooperation with the Polskie Wydawnictwo Muzyczne as the culmination of the Norwid Year. The world premiere of "Wanda" by Joanna Wnuk-Nazarowa took place on September 10, 2021 in the Arcade Courtyard of the Wawel Royal Castle. A special place was chosen for the presentation of the new work, the Wawel Hill, the probable territory of the events of the drama, as well as the space of the symbolic burial of C. K. Norwid.

Already at that time, the Krakow Opera was planning to move the title to its headquarters, so that it would enter the permanent repertoire. "Wanda" by Joanna Wnuk-Narodowa  on the stage  of the Krakow Opera is a new staging, with a different set design, costumes, and extended choreography, prepared by the producers of the "Wawel version". As before, the musical part of the opera belongs to Michał Klauza, the direction and set design to Waldemar Zawodziński, the costumes (previously rented by the Grand Theater in Łódź) were designed by Maria Balcerek, the choreography was enriched with new elements by Janina Niesobska. The stage version of "Wanda" retained almost all of its wonderful performers from Wawel, led by the world-famous bass-baritone Tomasz Konieczny in the part of Grodny.
producers
Music Director: Michał Klauza

Director, stage designer, multimedia creator: Waldemar Zawodziński                               

Costume designer: Maria Balcerek          

Choreography: Janina Niesobska

Choir maste: Janusz Wierzgacz      

Childrens choir maste: Marek Kluza                                     

Music director's assistant: Joachim Kołpanowicz

Director's assistants: Mateusz Makselon    

Stage managers: Agnieszka Sztencel, Justyna Jarocka-Lejzak           

Stage managers: Agnieszka Sztencel, Mateusz Makselon

Prompters: Dorota Sawka, Maria Mitkowska
cast
WANDA | Wanda Franek, Elżbieta Wróblewska
                                             
GRODNY | Tomasz Konieczny, Szymon Kobyliński, Sebastian Marszałowicz
           
RYTYGER/SKALD | Andrzej Lampert, Pavlo Tolstoy

PANNA | Paula Maciołek, Zuzanna Caban
Category S
1st seats
Marshal's Balcony
170 zł
2nd seats
Amphitheater rows IV-IX
130 zł
3rd seats
Amphitheater rows I-III and X-XII
100 zł
4th seats
Amphitheater side seats and rows XIII - XIV, Right-hand and left-hand side boxes (level 1), Balcony level II rows I and II
70 zł
5th seats
Balcony rows III-IV
55 zł
Premieres and special events
Category B
1st seats
Marshal's Balcony
110 zł
2nd seats
Amphitheater rows IV-IX
75 zł
3rd seats
Amphitheater rows I-III and X-XII
60 zł
4th seats
Side seats and rows XIII - XIV Right-hand and left-hand side boxes (level 1) Balcony level II rows I and II
40 zł
5th seats
Balcony rows III and IV
30 zł
upcoming performances of this genre