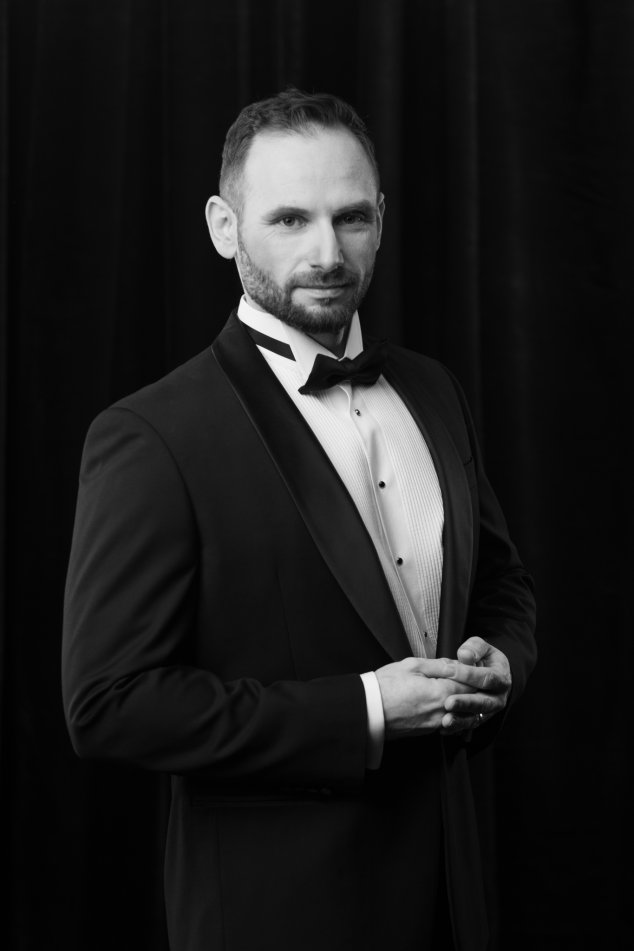 Tenor
Krzysztof Kozarek
Tenor
Krzysztof Kozarek
In 2013, he graduated with distinction from the Academy of Music in Krakow, the Faculty of Voice and Drama, in the class of Jacek Ozimkowski, Ph. D. He is also a graduate of Artistic Education in Musical Art at the University of Zielona Góra.
He has made many records of early music, including numerous world premières (such as "Sarmatia triumphans", "Christmas Cantatas of 18th Century", "Lent Cantatas of 18th Century"), and he has cooperated with such ensembles as Capella Cracoviensis, Cappella Augustiana, Goldberg Ensemble, La Tempesta, Accademia dell'Arcadia or Floripari, with which he gives concerts domestically and abroad (e.g., in France, Italy, Germany, Georgia, Kazakhstan).
In 2012, he started to cooperate with the Krakow Opera, and since September of 2015, he has been a member of the permanent ensemble of soloists. His repertoire includes parts from such operas as: "The Haunted Manor" by Stanisław Moniuszko (Damazy), "The Magic Flute" by Wolfgang Amadeus Mozart (Tamino), "Anna Bolena" by Gaetano Donizetti (Hervey), "Tannhäuser" by Richard Wagner (Heinrich der Schreiber), "Madame Butterfly" by Giacomo Puccini (Goro), "The Tales of Hoffmann" by Jacques Offenbach (Nathanaël, Andrès, Cochenille, Frantz, Piticchinaccio), "Norma" by Vincenzo Bellini (Flavio), "Ariadne on Naxos" by Richard Strauss (Scaramuccio), "Mephistopheles" by Arrigo Boito (Wagner, Nereo), "The Troubadour" by Giuseppe Verdi (Ruiz), "The Marriage of Figaro" by Wolfgang Amadeus Mozart (Don Curzio), "La Traviata" by Giuseppe Verdi (Gaston), "Halka" by Stanisław Moniuszko (The Highlander), as well as many oratorios parts.
He also takes part in numerous operetta, musical and chamber music spectacles, including: "The Fiddler of the Roof" by Jerry Bock (Motel Kamzoil), "Teresica - una pasión" directed by Fred Apke and arranged by Mikołaj Blajda (Miguel), "Cabaret lunaire" with the music of Arnold Schönberg (He), "la Belle Helene" by Jacques Offenbach (Achillo, Ajax I) and concerts performed as a part of prestigious musical festival (the International Bach Festival in Świdnica, the Bologna Festival, the Wratislavia Cantans, Music in the Old Krakow, the Goldberg Festival, the Jan Kiepura Festival, the Opera Festival in Bydgoszcz).
He is a laureate of the special prize of the 1st Summer Academy of Singing in Gdańsk.