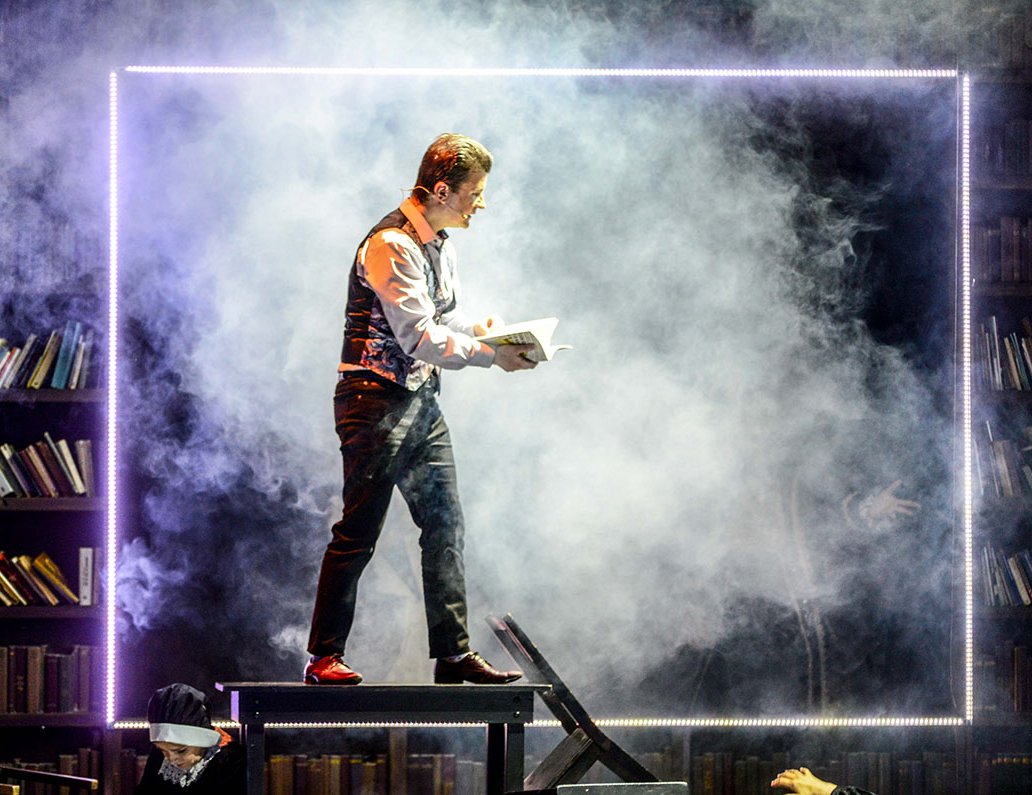 Operetta
Candide
Comic operetta in two acts
Leonard Bernstein
Michał Znaniecki
Sławomir Chrzanowski
2 hours 40 minutes
details
duration
2 hours 40 minutes | 1 intermission
composer
Leonard Bernstein
libretto
based on Voltaire's philosophical fiction, Candide – Hugh Wheeler, lyrics by Richard Wilbur, additional lyrics by Stephen Sondheim, John La Touche, Lillian Hellman, Dorothy Parker and Leonard Bernstein
World premiere
Martin Beck Theatre, New York, 1956
Polish premiere
Teatr Wielki, Łódź, 2005
premiere
Theatre Royal Glasgow, 1988
premiere at the Krakow Opera
7 June 2019
description
"Candide" is one of the most popular, beside "West Side Story", of Bernstein's pieces for Broadway. Based on the outrageous philosophical tale by Voltaire, its musical layer plays on European operetta conventions and is brimming with witty humour and charm, but is also deeply ironic and sarcastic, just like the Enlightenment-era masterpiece which inspired Bernstein's work. The eponymous character wanders through countries across all continents, embarking on incredible adventures which shake his naive confidence in the morality of the world and the integrity of people.


"It's a sad story, really, even though grotesque and theatre of the absurd make us laugh and travel through a series of misleading tropes," says director Michał Znaniecki, "it's a story about us – we may not be going to Buenos Aires, discovering Eldorado or losing our innocence in Venice's casinos, but we do believe in love, loyalty and respect..."
producers
Director: Michał Znaniecki
Music Director: Sławomir Chrzanowski
Additional lyrics by Stephen Sondheim, John La Touche, Lillian Hellman, Dorothy Parker and Leonard Bernstein
Orchestration by Leonard Bernstein and Hershy Kay
Musical arrangement and additional orchestration by John Mauceri
Polish translation Bartosz Wierzbięta
Renditions based on publications by Boosey & Hawkes Music Publishers Ltd

Director, costume and lighting designer: Michał Znaniecki
Music director: Sławomir Chrzanowski
Set designer: Luigi Scoglio
Choreography: Jarosław Staniek
Choir master: Jacek Mentel

Director's assistants: Anita Maszczyk, Dagmar Bilińska-Korban
Music director's assistant: Joachim Kołpanowicz
Set designer's assistant: Grażyna Maślankowska
Costume designer's assistant: Joanna Medyńska
Choreography designer's assistant: Katarzyna Zielonka
Choir master's assistant: Joanna Wójtowicz
Stage managers: Mateusz Makselon, Agnieszka Sztencel
Prompters: Dorota Sawka, Maria Mitkowska
Soloists' coaches: Wioletta Fluda, Kristina Kutnik, Katarzyna Starzycka, Olga Tsymbaluk
Choir accompanist: Olga Piotrowska-Cender
Ballet accompanists: Emilia Strzecha, Olena Yasilkivska
Category A
1st seats
Marshal's Balcony
140 zł
2nd seats
Amphitheater rows IV-IX
95 zł
3rd seats
Amphitheater rows I-III and X-XII
75 zł
4th seats
Amphitheater side seats and rows XIII - XIV, Right-hand and left-hand side boxes (level 1), Balcony rows I and II
45 zł
5th seats
Balcony rows III and IV
35 zł
ACT I


Young Candide lives in the castle of Baron Thunder-ten-Tronckh in Westphalia, where he is enjoying country life in the company of the Baron's children, Cunegonde and Maximilian, and the beautiful Paquette, the Baroness' maid, who generously shares her charms with any male member of the mankind (quartet: Life Is Happiness Indeed). Candide is being taught by the philosopher Pangloss, who inculcated him with the innocent conviction that all is for the best (The Best of All Possible Worlds). When Candide sees his mentor with Paquette in a position unbecoming of a philosopher, he quickly follows his example (Oh, Happy We), which earns him a kick up the backside and eviction from the castle, along with Pangloss (It Must Be So). While wandering aimlessly, he bumps into moustache-sporting Bulgars with wild eyes and filthy clothes, who are raping and plundering everything they can lay their dirty hands on. He manages to get away with some bruisingonly, but his companions get annihilated (Cunegonde!). Candide then makes his way to Holland, where he meets Pangloss, who had miraculously raised from the dead. He is, however, a beggar now, and, on top of that, suffers from a painful and incurable 'token of remembrance' contracted from the lovely Paquette (Dear Boy). Together they set off to Lisbon. As a result of a disaster at sea, they are slightly late for the infamous earthquake which razed the city to the ground. Pangloss cannot help himself and pontificates to the inhabitants of Lisbon about his optimistic beliefs, as a result getting himself a place at the stake (What a Day). Candide manages to escape death once again, having received mighty whipping. He continues to believe that everything is going really well (It Must Be Me), and makes his way to Paris (The Paris Waltz), where, by a stroke of luck, he meets Cunegonde. She managed to escape from the plundered castle and is now a lover of both the Cardinal Archbishop of Paris and a certain wealthy Jewish merchant (Glitter and Be Gay). Having caught both gentlemen making out with Cunegonde (You Were Dead), Candide kills them and flees with his beloved and her duenna, who asserts that she is the daughter of a Polish pope (tango: I Am Easily Assimilated). They end up, for a change, in Cádiz, from where, owing to the intervention of a Métis named Cacambo, they set off on a journey to the New World to help Jesuit missionaries (quartet: Once Again).


ACT II


Having arrived in Buenos Aires, they meet Maximilian, son of Baron Thunder-ten-Tronckh, and the lovely Paquette, who had been sold as slaves. After spending a few moments with Maximilian, who he thought, being absent-minded, to be a buxom wench, the Governor's attention is turned to Cunegonde (My Love - polka - We Are Women), while Candide goes off to the jungle to fulfil his military duties (The Pilgrims' Procession). After countless trials and tribulations, including Candide killing Maximilian (for rejecting his proposal to Cunegonde once again), and Cunegonde and her duenna getting bored rotten living in luxury at the Governor's (Quiet), Candide and his faithful Cacambo make it to Eldorado (The Ballad of Eldorado). Having taken several golden fleeced rams, Candide sets off on another search for Cunegonde.


After a long journey, when he is left with only two rams, he meets Martin, whose extremely pessimistic view of the world is in direct opposition to Pangloss' philosophy (Words, Words, Words). Candide uses one of the rams to buy a ship to go to Europe, but Vanderdendur, a Dutch trickster, has sold them a defective wreck (Bon Voyage) which immediately sinks. As confirmation of his philosophy of life, Martin quickly drowns, while the last ram proves its value by saving Candide's life. While at open sea, Candide chances upon a raft with five deposed kings and one miserable beggar, who is easily recognised as Pangloss (The Kings' Barcarolle).
Having arrived in Venice, Candide bumps into Maximilian again, who is not only alive, but also a local Mafia leader, Paquette, who is now a luxury courtesan, and Cunegonde, who steals from patrons of a casino owned by Maximilian (Money, Money, Money – What' s the Use? - The Venice Gavotte). Pangloss wins at one of the green-clothed tables and hires two prostitutes, who Candide recognises as Cunegonde and her duenna. Burdened by the misfortunes (Nothing More Than This), the young man becomes depressed and refuses to speak, while Pangloss buys a small farm outside Venice, where everyone will finally be able to grow their own garden (Universal Good - Make Our Garden Grow). They resolve this to be the only reasonable attitude in the face of the human condition.


Piotr Kamiński, Tysiąc i jedna opera, PWN, 2008
Lesław Czapliński, 19 June 2019
Music and theatre theorists still discuss whether Leonard Bernstein's "Candide" is an opera, operetta or a musical. Michał Znaniecki seems to put an end to this discussion with his interpretation staged in the Krakow Opera. He created a musical masterpiece. He is one of the best known Polish opera directors in the world, who takes an unorthodox approach to the matter of the pieces he works on. It is a collage of, at times loosely connected, scenes presented in an attractive form which take us on a journey around the world – together with Candide characters – in the search of a land in which one could breathe happiness. Each of the stops in the journey has a varying character, adorned with an opera-like splendour and a musical-like craze. A parade-like chick makes the audience follow the director's imagination with delight. Some of the ideas are risky, such as the appearance of a bearded drag queen or the dance of nuns and inquisitors who are wearing hooded outfits still used today in processions in the Iberian Peninsula; the ideas, however, turn out to be successful. Jarosław Staniek, an amazing choreographer - already known by the Krakow audience, is to be credited for this. (...) Choreography is well-thought-out and adapted to the stage of the Krakow Opera, especially with such a numerous cast performing. Similar compliments can be paid to Luigi Scoglio, author of the scenery. He managed to build a stage world above chronological and geographical divisions. A bookshelf is an axis of the stage – this comes as no surprise since we are in Wolter's world. Yet, we quickly jump to the new worlds hidden behind the shelves (Is this an allusion to knowledge derived from books?). Anyway, a sense of depth, multiple layers and stories told over space was created. Even if this is sometimes too visually literal, the vividness of this narration simply seduces the audience.
Łukasz Gazur, "Dziennik Polski", 13 June 2019
Łukasz Gaj feels more confident in this vocal convention and has largely fought his voice emission issues which were evident before. Mariusz Godlewski took the role of the philosopher Pangloss twice, his interpretation of the second song Dear Boy was particularly characterised by expressive voice timber modulations and its skilful use, including lowering the voice. (...) Katarzyna Oleś-Blacha won the audience not only with her noble legato but also by adding feelings to the stage image of her character, while Joanna Moskowicz did better in vocalises (...). Young baritone, Hubert Zapiór, performed not only as Maximillian, who takes on various personas such as an Argentinian beauty shown as a drag queen and presented transmutative acting in which he transformed multiple times. (...) The artist darkened the timber of his voice giving it a hero-like quality. (...) Krzysztof Kozarek has made significant progress in voice control, and that's why his role of the aforementioned governor is one of his most successful. Michał Kutnik and Stanisław Olejniczak did well in the characteristic song of the devilish pyromaniac, Martin - Words, Words, Words – being the opposite of Pangloss's optimism and his song - The Best Of All Possible Worlds. Vasyl Grokholskyi, too, found himself in the parodistic roles of Ragotski and Vanderdendur, and his singing was melodic and characterised by even timber. (...) Michał Znaniecki emphasised the spectacle side of his creative production, which is aimed at stunning the audience with richness and abundance of ornaments and costumes, while not straying from the original but corresponding to it, and preserving the identity bond.
Jacek Marczyński, "Rzeczpospolita", 11 June 2019
The Krakow Opera prepared "Candide" with a splendour, although the performance takes a while to develop (...). The spectacle gains pace when the main cast takes the stage. (...) Renowned opera stars present themselves in a whole new light, which adds appeal. Małgorzata Walewska as Old Lady moves gracefully between musical and opera, and her good comedy act is enriched by ironically treated primadonna style. Mariusz Godlewski (the philosopher Pangloss) is equally flawless in those two music worlds. Katarzyna Oleś-Blacha (Cunegonde) always reaches the best artistic effect when treating her stunning vocal technique with a distance, like here, in the role of a woman valuing the clinking coins and shining diamonds. Voytek Soko Sokolnicki gave Candide a noble simplicity (...). Director Michał Zaniecki creatively set almost the whole of the plot in a library full of smart books, because Candide gained his view on the world from the teachings of Pangloss. When, after unbelievable adventures he got his beloved woman back and moved in with her to a modest house, the library was transformed into a supermarket. This is our world – one in which bookshelves were replaced by products with colourful stickers. Is this the life which Candide pursues in the 21st century?
Anna Małachowska, nascenie.info portal, 9 June 2019
Małgorzata Walewska (Old Lady), whose craftsmanship of opera singing I value so high, surprised me with her acting abilities and the grace of her performance in Michał Zaniecki's spectacle, and Michał Kutnik (Martin), who took full advantage of his time onstage to thoroughly scoff at Candid's naive optimism in the aria Words, Words, Words, and performed his duties as an actor and vocalist expressively. I enjoyed watching and listening to Mariusz Godlewski (Pangloss) and Monika Korybalska (Paquette).
Anna Woźniakowska, portal polskamuza.eu, 8.06.2019
The story of a young man who believed – as did his master, Pangloss - that he lived in the most beautiful of worlds, is as much a philosophical reflection on the fate of a man pushed by the winds of history, as a satire full of absurd. Creating a convincing whole out of single images is quite a challenge. And Michał Zaniecki, the director of the performance, designer of costumes and play of light, faced it successfully. Stage designer Luigi Scoglio and choreographer Jarosław Staniek lent a helping hand. What we see on the stage of the Krakow Opera is a vibrant spectacle, full of well-planned movement, beautiful at times. 


The reviewer emphasises the cast's strengths: Voytek Soko-Sokolnicki (debuting on the Krakow stage) created the character of Candid well, consistently presenting his maturing, he was successful both as an actor and a vocalist. Katarzyna Oleś-Blacha presented a good Cunegonde. Małgorzata Walewska performed Old-Lady really masterfully, as did Mariusz Godlewski as Pangloss. I enjoyed watching and listening to Monika Korybalska as Paquette and Hubert Zapiór as Maximilian. Additionally, all the actors in smaller roles, and there were many of them, did great. So did the ballet and the dancing choir.
upcoming performances of this genre