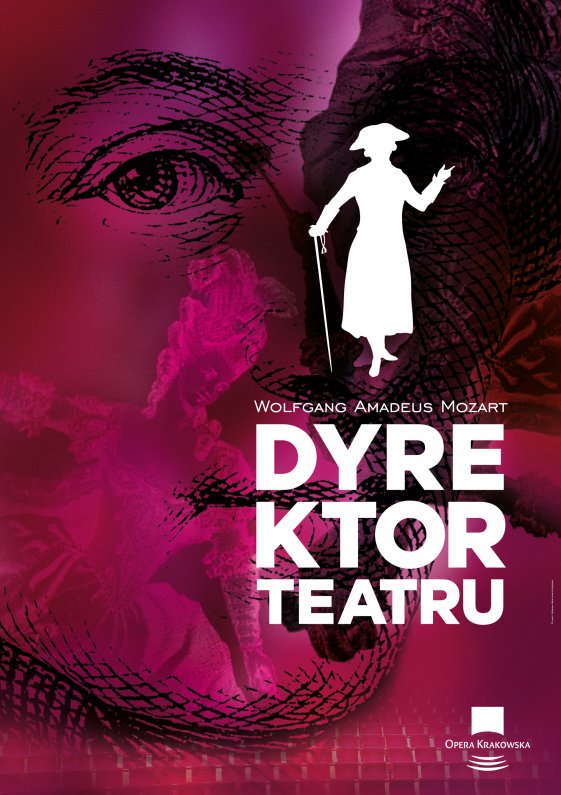 Opera
Der Schauspieldirektor
Wolfgang Amadeus Mozart
Beata Redo-Dobber, Bogusław Nowak
Tomasz Tokarczyk
1 hours 45 minutes
details
duration
1 hours 45 minutes
composer
Wolfgang Amadeus Mozart
premiere at the Krakow Opera
15.07.2022
description
A musical comedy in one act, presenting the ups and downs of a director setting up a new theatre team. An audition for the roles of comedians and primadonnas, bargaining for positions in the team, and of course the amounts of salaries end up in a series of quarrels between the singers, then between actresses, and all of this in an atmosphere of pressure from the banker, who is willing to finance the undertaking in exchange for employing his favourite. Ultimately, the theatre director tones down the emotions in order for the art to win.

Mozart was 30 years old. He was working on "The Marriage of Figaro", when an order from Emperor Joseph II for 5 music inserts for a short play by Gottlieb Stephanie jr. (the author of a libretto to "The Abduction from the Seraglio") halted the opera's composition for two weeks. The short comedy performance, a type of a theatrical divertimento, was supposed to celebrate a courtly dinner party. The story, being a joke about actors and singers, was decorated by Mozart with a brilliant overture in the buffo style, two signature arias performed by sopranos, a trio of sopranos and a tenor, and the final "vaudeville". The rest was spoken by the actors.

The premiere of this occasional work took place in the Schönbrunn orangery in Vienna on 2nd February 1786. Interestingly, the same celebrations were decorated with the piece by Antonio Salieri, "Prima la musica e poi le parole" ("First the music and then the words"), which also referred to the theme of musical theatre. However, while the first one showed the world of artists from behind the scenes with their trivialities, the second one argued on the meaning of opera and its aesthetics. Salieri won the duel with Mozart with his longer composition (13 songs) only seemingly. After a few performances, "Prima la musica" almost disappeared from the stage, whereas "Der Schauspieldirektor" has spread around almost the entire world and is still in repertoires to this day.

This title is appearing for the first time in the history of the Kraków Opera. The producers have expanded the comedy's musical material with arias from other Mozart operas, including "Idomeneo", "Cosi fan tutte", and "The Magic Flute".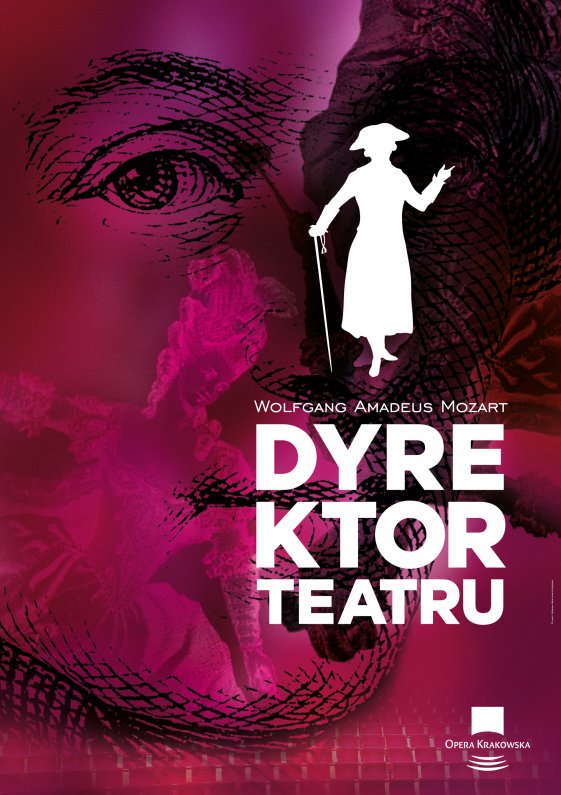 poster by
Monika Wanyura-Kurosad
producers
Music direction: Tomasz Tokarczyk

Staging: Bogusław Nowak

Direction: Beata Redo-Dobber                           

Stage design and costumes: Ryszard Melliwa                                           

Director's assistant: Mateusz Makselon

Music director's assistant: Joachim Kołpanowicz

Stage manager: Justyna Jarocka-Lejzak

Prompter: Dorota Sawka, Maria Mitkowska
cast
Frank, an impresario | Wojciech Gierlach

Eiler, fiancé of Great Pfeil | Michał Kutnik

Buff, the impresario's assistant, a singer | Robert Gierlach

Herz, an actor, a tragedian singer | Paweł Trojak

Monsieur Vogelsang, a tenor, husband of Madame Vogelsang | Jarosław Bielecki

Great Pfeil, a singer | Monika Korybalska

Madame Krone, a tragedian, singer | Magdalena Barylak

Madame Vogelsang, a promising young artist | Zuzanna Caban

Madame Herz, the great tragedian, wife of Mister Hertz | Katarzyna Oleś-Blacha

Mademoiselle Silberklang, a coloratura singer | Karolina Wieczorek

Mozart | Jacek Wróbel

and

Jarosław Dijuk, Marek Gerwatowski
Paulina Cisłowska, Julia Galambos
Malika Tokkozhina, Klaudia Wójcicka

Krakow Opera Orchestra 
conductor: Tomasz Tokarczyk
upcoming performances of this genre