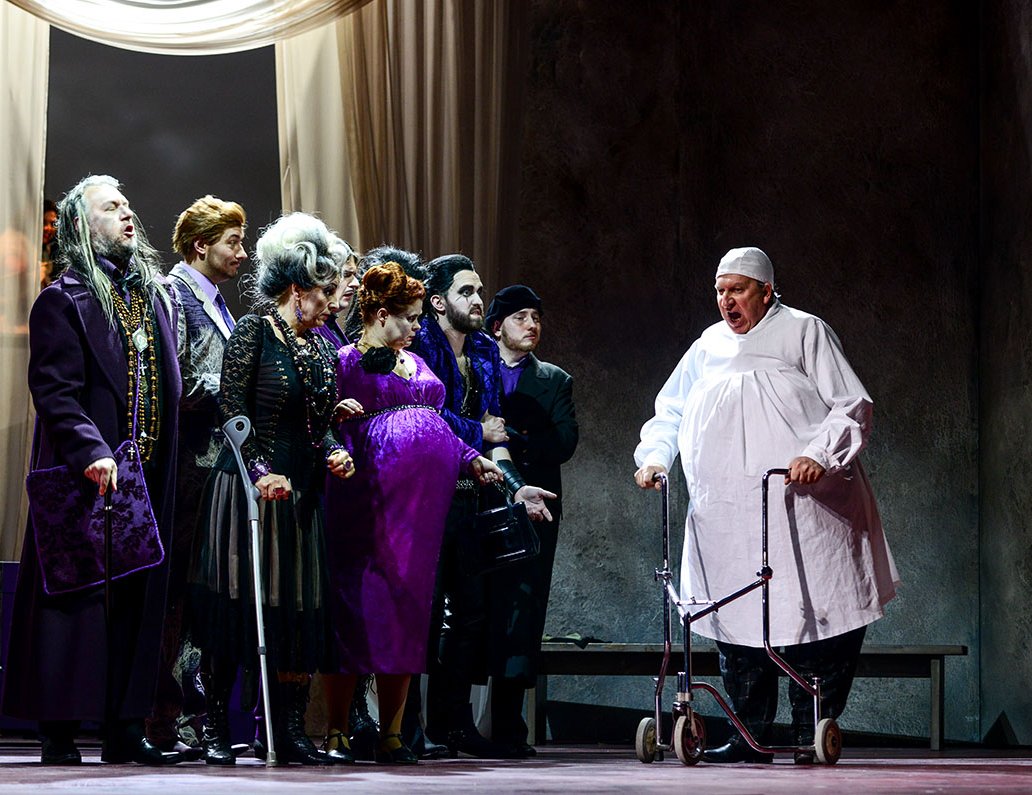 Opera
Gianni Schicchi | Pagliacci
Opera in one act | Opera in two acts with a prologue
Giacomo Puccini | Ruggero Leoncavallo
Włodzimierz Nurkowski
Tomasz Tokarczyk
2 hours 35 minutes
details
duration
2 hours 35 minutes | 1 intermission
composer
Giacomo Puccini | Ruggero Leoncavallo
World premiere
Nowy Jork, Metropolitan Opera, 14 December 1918 | Milan, Teatro dal Verme, 21 May 1892
Polish premiere
Warsaw, 1926 | Warsaw, 1894
premiere at the Krakow Opera
23 March 2018
description
The story is about extreme emotions that become a source of destruction. They devour a human and devastate his life. In "Pagliacci", lust for love and jealousy, leading to a catastrophe, are the destructive forces, whereas in "Gianni Schicchi" these are money as well as greed, the latter being capable of any kind of wickedness and cruelty. The two titles were combined in the form of the theatrical performance. In "Pagliacci", what was supposed to be a fiction will turn into a grim reality and lead to a tragedy, whereas in "Gianni Schicchi", we will witness a great spectacle of human behaviour and attitudes, presented in a farcical or even grotesque form. The attractions in which different forms of art meet are also guaranteed. These include: breakdance, circus and illusion arts. An additional pleasure is music which reflects the features of the heroes. It also creates the world of situations, relationships, feelings...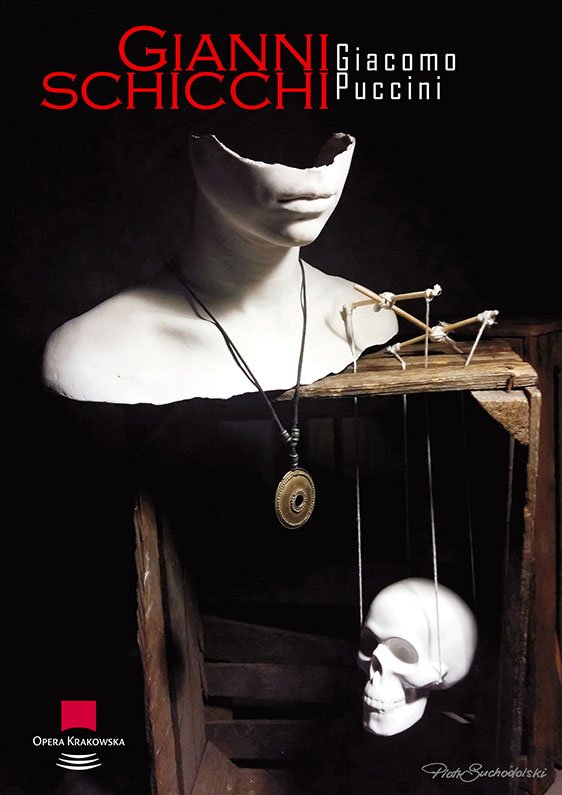 poster by
Piotr Suchodolski
producers
Director: Włodzimierz Nurkowski
Music Director: Tomasz Tokarczyk 
Set and Costume Design: Anna Sekuła
Chorus Master:Jacek Mentel
Assistant Director: Bożena Walczyk-Skrzypczak
Stage Managers: Justyna Jarocka-Lejzak, Dagmar Bilińska-Korban
Prompters: Dorota Sawka, Maria Mitkowska
Category B
1st seats
Marshal's Balcony
110 zł
2nd seats
Amphitheater rows IV-IX
75 zł
3rd seats
Amphitheater rows I-III and X-XII
60 zł
4th seats
Side seats and rows XIII - XIV Right-hand and left-hand side boxes (level 1) Balcony level II rows I and II
40 zł
5th seats
Balcony rows III and IV
30 zł
"Gianni Schicchi" 


An old Florentine rich man, Buoso Donati, has just died. A large family have gathered at the deathbed – everyone is mourning out loud the deceased, praising its virtues, however, secretly hoping for a considerable inheritance. When his last will is read out, it turns out that Donati decided to bequeath the entire wealth to a monastery. Young Rinuccio, engaged to the daughter of Gianni Schicchi, suggests sending for Lauretta's father, who will surely fi nd a solution. After a quite intense discussion, the whole family, fi nally, agrees to get help from the commoner whom they have so far despised. Gianni Schicchi arrives with Lauretta but when Zita shows too much reluctance toward the young girl, the off ended Schicchi intends to leave. Lauretta's and Rinuccio's requests stop him (aria "O mio babbino caro"). They both see that his shrewdness and cleverness are their only hope. Soon, Schicchi comes up with an excellent idea: nobody knows about death of old Buoso – nothing is easier than to move the deceased to other rooms and dress him, Schicchi, in Buoso's robe and nightcap, then, call a notary to whom Schicchi, pretending to be Buoso, will dictate the new content of the will. The relatives enthusiastically accept this plan and immediately bring it to life, whereby, in a scene full of irresistible comedy, each of them, one by one, takes Schicchi aside, promising him a share in profi ts in exchange for "assigning" the largest part of the wealth. Their joy turns into fury when Gianni Schicchi, intentionally changing his voice and dictating the new will to the called notary, leaves all the Buoso's assets to... himself. Unfortunately, the members of the family are helpless since by unmasking Schicchi, they themselves would have to admit to deliberate deception, for which they would face severe punishment. Only after the notary and witnesses leave, all together lunge at Schicchi with great power but he takes vigorous attitude and expels the entire family from the house that now belongs to him. Looking at Lauretta and Rinuccio fondly hugging, Gianni Schicchi asks the audience for forgiveness for the crime he has committed, and for which father Dante condemned him to hell. Could the ducats of old Buoso be better used than to make the two young happy?


Józef Kański "Przewodnik operowy", PWM 1995
------------------------------------------


"Pagliacci"

Act I


Today is the day of Assumption of the Blessed Virgin Mary and the whole village is in a jolly and festive mood. A troupe of itinerant comedians arrives, and its leader, Canio, announces from a cart that a performance will take place in the evening. Despite a smile on Canio's face, his heart is tormented by concern. The beauty of a young leader's wife, Nedda, lures too many men. Being passionate in his words, Canio talks about his great love – he is so jealous of his wife (arioso "Un tal gioco") because of it; he also warns Nedda that if she ever is unfaithful to him, death would await her.


Canio together with the rest of the comedians, invited by hospitable villagers for a treat, goes to a nearby tavern; Nedda stays alone (ballatella "Qual fiamma"). Tanio appears and tries his luck, wanting to get Nadda's feelings reciprocated at all costs. However, she contemptuously mocks his amorous advances, and when Tonio tries to embrace her, she punches him in the face with a crop. Furious in his heart, Tonio retires, vowing revenge. The opportunity comes almost immediately, as here the young villager Silvio approaches. The conversation between Silvio and Nedda implies that they've been in love secretly for a long time (duo "Nedda! Silvio! A quest 'ora"). Now, Silvio begs his beloved to abandon Canio. Nedda hesitates, but eventually accepts the plan of a joint escape. Deep in love, neither of them notices Tonio, hidden in nearby bushes and eavesdropping on them and who now is rushing to the tavern for Canio. Silvio managed to escape at the last moment, so all the rage of the betrayed husband turns against Nedda. When she refuses to reveal the name of her beloved, Canio threatens her with a knife, and only the intervention of other members of the troupe enables them to avoid bloodshed. Canio experiences a terrible tragedy; he knows the performance will begin in a moment and he will have to play a merry comedy, laugh and play with the crowd though his heart is broken (aria "Vesti la giubba" – "Laugh Pagliaccio").


Act II


The touring theatre begins the performance. The scenery depicts Nedda-Colombina's flat, in which she is waiting for her lover, Arlecchino, whose role is played by Beppo. Instead, Taddeo-Tonio arrives and confesses his love in a comic way. However, from behind the window come the sounds of serenade sung by Arlecchino (O Colombina), who, after a while, gets through the window and – to the delight of the gathered audience – gets rid of an unfortunate competitor without ceremony. However, when Colombina's husband appears – Paggliaco, whose role is played by Canio, Arlecchino also escapes. Here the comedy scene almost literally repeats the story of the last afternoon. Nearly identical words are uttered. Canio, whose heart experiences jealousy and despair, holds his nerves in rest with hardship. Demanding from Colombina to reveal him the name of the escaped lover, he starts losing the sense of the border between comedy and reality. Nedda sees this. She, in vain, tries to recreate the light, comedy tone of the performance. "Pagliaccio! Pagliaccio" – she speaks quietly to her husband, wishing to remind him of the role he is playing. These words have the opposite effect and Canio explodes with all the concealed passion (aria No, pagliaccio no son). Horrified, Colombina runs away from the stage and looks for help from the audience but Canio catches her and stabs with a dagger. Standing in the crowd, Silvio comes to the rescue but he also gets killed by Cania who recognises him as his wife's lover. Canio stands motionless for a moment, and then drops the knife from his hand. He says in despair and ironically to the terrified audience: "La commedia é finta!" – "The performance is over!".


Józef Kański "Przewodnik operowy", PWM 1995
upcoming performances of this genre