Operetta
Orpheus in the Underworld
Opéra-bouffon in two acts
Jacques Offenbach
Włodzimierz Nurkowski
Tomasz Tokarczyk
2 hours 30 minutes
Available dates
Date
Hour
Place
Informations
Tickets
20 January 18:30, Thursday
20 January, Thursday
18:30
Main Stage
21 January 18:30, Friday
21 January, Friday
18:30
Main Stage
22 January 18:30, Saturday
22 January, Saturday
18:30
Main Stage
23 January 18:30, Sunday
23 January, Sunday
18:30
Main Stage
details
duration
2 hours 30 minutes | 1 intermission
composer
Jacques Offenbach
libretto
Ludovic Halévy, Hector Crémieux, translation: Jerzy Merunowicz, edition: Wojciech Kępczyński
World premiere
Bouffes Parisiens, Paris, 21.10.1858
Polish premiere
Warsaw, 19.02.1862
premiere at the Krakow Opera
27 March 2020
language
Polish translation: Jerzy Merunowicz, Andrzej Ozga (sung parts), edition: Wojciech Kępczyński
description
The operetta in which Offenbach, the master of the genre, made a parody of the myth of Orpheus and Eurydice by breaking with the previous tradition of its rendition. The programme of the Krakow Opera includes this best known opera piece illustrating the great feeling Orpheus had for his deceased wife, Orpheus and Eurydice by Ch. W. Gluck. Offenbach's adaptation portrays a married couple, bored with each other and searching for thrills outside of marriage with the interference of Olympian gods. The myth turned upside down gives the composer a chance to laugh at the unpunished abuse of power by elites, omnipresent hypocrisy, double standards of morality, and lying to the public. Cries of outrage were heard in Paris as a response to the violation of antiquity and disrespect towards the majesty of the Tsar, but the intelligent audiences hugely enjoyed the piece. Orpheus in the Underworld soon became internationally successful, because isn't laughing at those in power a cure for anger and helplessness? And shouldn't we laugh at ourselves, sometimes? The music sparkles with humour, awes with imaginativeness and wit. The Galop infernal from the second act, also known as the can-can, became the most recognized of the many unforgettable elements.


The performance is being prepared by Tomasz Tokarczyk, music director of the Opera, and Włodzimierz Nurkowski known from successful productions shown on our stage, such as Gianni Schicchi, Pagliacci, The Turk in Italy or Ariadne on Naxos. As usual, he will be supported in the visual aspect by Anna Sekuła – stage and costume designer.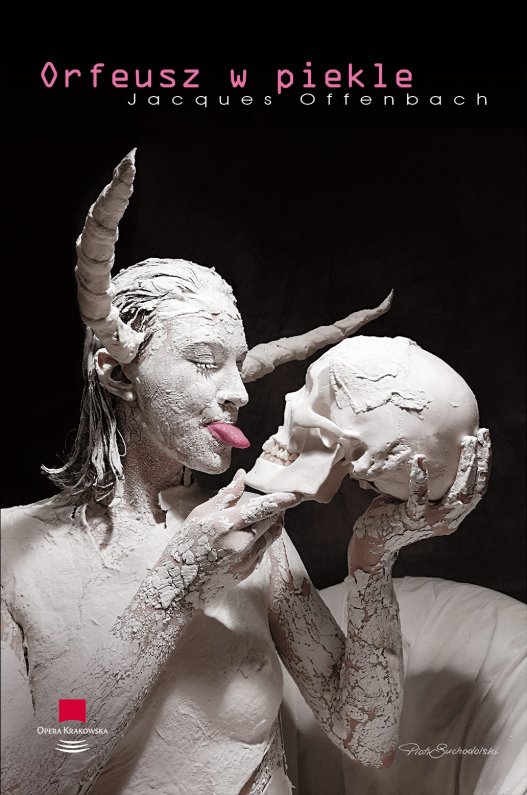 poster by
Piotr Suchodolski
producers
Music Director: Tomasz Tokarczyk
Director: Włodzimierz Nurkowski
Set Designer and Costume Designer: Anna Sekuła
Stage movement: Violetta Suska
Choir Master: Jacek Mentel, Janusz Wierzgacz 
Director's assistant: Anna Popiel
Stage managers: Mateusz Makselon, Dagmar Bilińska-Korban
Prompters: Dorota Sawka, Maria Mitkowska
cast
ORPHEUS | Jarosław Bielecki, Dominik Sutowicz
EURYDICE | Katarzyna Oleś-Blacha, Karolina Wieczorek, Marcelina Beucher
ARISTAEUS-PLUTO | Adam Sobierajski, Łukasz Gaj
JUPITER | Przemysław Rezner, Grzegorz Szostak
PUBLIC OPINION | Anna Lubańska, Elwira Janasik
JOHN STYX | Janusz Ratajczak, Michał Kutnik, Krzysztof Kozarek
CUPID | Paula Maciołek, Zuzanna Caban
MERCURY | Adrian Domarecki, Łukasz Ratajczak
DIANA | Agnieszka Kuk, Iwona Socha
JUNO | Agnieszka Cząstka-Niezgódka, Karin Wiktor-Kałucka
VENUS | Monika Korybalska, Ewa Menaszek
MINERVA | Magdalena Barylak, Marta Abako
MARS | Sebastian Marszałowicz, Jacek Ozimkowski

THE KRAKOW OPERA ORCHESTRA, CHOIR and BALLET
conductor: Tomasz Tokarczyk
Category A
Amphitheatre
Rows I-III and X-XII
65 zł
Amphitheatre
Side seats and rows XIII - XIV, Right-hand and left-hand side boxes (level 1), Balcony level II rows I and II
40 zł
Balcony level II
Rows III and IV
30 zł
Attention! Visible ticket prices are valid for performances within the regular repertoire of the Krakow Opera.
Different ticket prices apply for special, pre-premiere and morning shows. There are also discounts for disabled people. Detailed information can be found in the
Pricelist
.
Category S
Amphitheatre
Rows I-III i X-XII
80 zł
Amphitheatre
Side seats and rows XIII - XIV, Right-hand and left-hand side boxes (level 1), Balcony level II rows I and II
55 zł
Balcony level II
Rows III-IV
45 zł
Premieres and special events
upcoming performances of this genre