Opera
The Barber Of Seville
Comic opera in two acts
Gioacchino Rossini
Jerzy Stuhr
Tomasz Tokarczyk
2 hours 50 minutes
Available dates
Date
Hour
Place
Informations
Tickets
21 October 18:30, Friday
21 October, Friday
18:30
Main Stage
23 October 18:30, Sunday
23 October, Sunday
18:30
Main Stage
details
duration
2 hours 50 minutes | 1 intermission
composer
Gioacchino Rossini
libretto
Cesare Sterbini after Pierre Beaumarchais
World premiere
Roma, Teatro Argentina, 20 February 1816
Polish premiere
Warsaw, 1825
premiere at the Krakow Opera
15 March 2019
language
Sung in the Italian, with Polish subtitles
description
"The Barber of Seville" by G. Rossini is an opera buffa considered to be the leading example of the genre. It is the most well-known and loved work by the composer, filled with beautiful music, based on an excellent libretto and presenting itself as "an inexhaustible well of theatrical humour," as Piotr Kamiński wrote in his book "Tysiąc i jedna opera," ["One-thousand and One Operas."] The music director for Rossini's opera is Tomasz Tokarczyk, while Jerzy Stuhr, an excellent theatre and film actor, director and educator, is responsible for directing the work.  An aficionado of Italy, its culture and art, Stuhr has had his director's debut in musical theatre on the Krakow Stage. His "Don Pasquale" by G. Donizetti is popular to this day. This time, his and Tomasz Tokarczyk's workshop is once more welcoming comic opera – "The Barber of Seville," which is a great exhibition of both mastery of composition and humour. It is also a work "crawling with" famous musical subjects and "hits" of the history of the genre.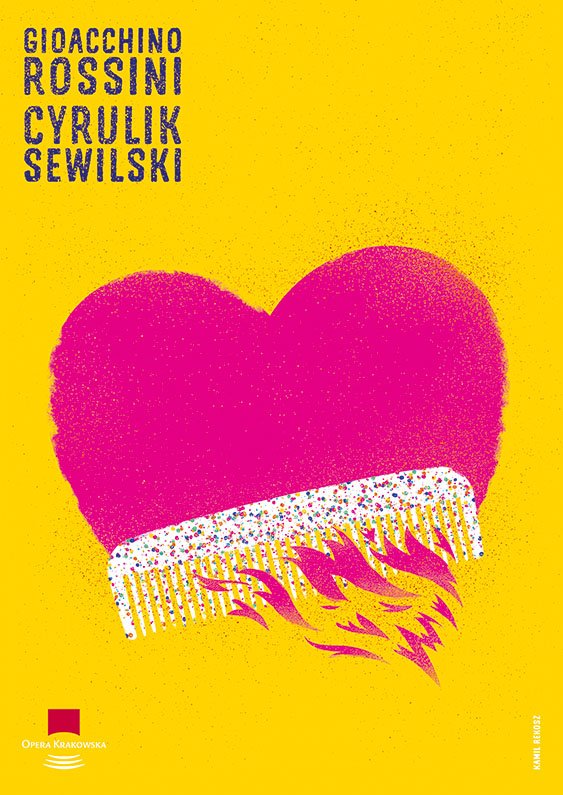 producers
Director: Jerzy Stuhr
Music director: Tomasz Tokarczyk
Set designer: Natalia Kitamikado
Costume designer: Joanna Klimas
Hairstyle designs: Jaga Hupało
Choir master: Jacek Mentel
Stage movement designer: Katarzyna Aleksander-Kmieć
Lighting designer: Katarzyna Łuszczyk

Music director's assistant: Mieczysław Unger
Director's assistants: Bożena Walczyk-Skrzypczak, Anna Popiel
Choir master's assistant: Joanna Wójtowicz
Set designer's assistant: Anna Łyszcz
Stage managers: Agnieszka Sztencel, Mateusz Makselon
Prompters: Dorota Sawka, Maria Mitkowska
Soloists' coaches: Kristina Kutnik, Katarzyna Starzycka, Olga Tsymbaluk, Joachim Kołpanowicz
Choir accompanist: Olga Piotrowska-Cender
Surtitles translated by Dorota Sawka
cast
Count Almaviva | Jarosław Bielecki                                         

Bartolo | Robert Gierlach                                          

Rosina  | Monika Korybalska                                    

Figaro | Tomasz Rak                                   

Don Basilio | Wołodymyr Pańkiw                          

Fiorello | Michał Kutnik                       

Berta | Agnieszka Cząstka-Niezgódka                

Ambrogio| Wiesław Popiołek                                  

Police Sergeant | Jarosław Dijuk

A notary | Jacek Wróbel      


The Krakow Opera Orchestra and Choir

conductor: Tomasz Tokarczyk
Category A
1st seats
Marshal's Balcony
140 zł
2nd seats
Amphitheater rows IV-IX
95 zł
3rd seats
Amphitheater rows I-III and X-XII
75 zł
4th seats
Amphitheater side seats and rows XIII - XIV, Right-hand and left-hand side boxes (level 1), Balcony rows I and II
45 zł
5th seats
Balcony rows III and IV
35 zł
ACT I


At dawn, in front of doctor Bartolo's house arrives a group of musicians; with their accompaniment, count Almaviva sings a serenade (cavatina "Ecco ridente in cielo") under Rosina's window. She is a foster-child of the old doctor, whose graceful character completely conquered his heart. However, Rosina does not appear in the window. The distressed count dismisses the musicians and means to leave the place himself – but at that moment his fortune becomes a lucky one as unexpectedly he meets an ally in the person of a clever barber, Figaro (cavatina "Largo al factotum"); Almaviva recognises his servant from earlier times. Persuaded by Figaro's advice, the Count (who during his stay in Seville took on the name Lindora) once more begins to sing under Rosina's window (canzona "Se il mio nome") – and this time he is lucky to exchange a few words with the beautiful girl. Unfortunately, Rosina, startled by a noise inside the house, shuts the window, right after subtly dropping a small note. The Count and Figaro learn from it that they must act in haste, for the old doctor Bartolo means to wed Rosina and that is why he grudgingly keeps her away from the rest of the world. Clever Figaro hints that Almaviva should disguise himself as a soldier from a regiment newly arrived in Seville and try to obtain lodging in the doctor's house. The two of them already celebrate the success of their plan (duet "All'idea di quel metallo").


A young man bearing the name Lindora causes Rosina to develop feelings for him (cavatina "Una voce poco fa"); she desires to get to know him more, which is not at all easy due to Bartolo's suspiciousness. Thus she writes a letter to Lindor and the obliging Figaro, who, thanks to his profession, has free entry to the doctor's house, helps to deliver the letter to the young man, assuring Rosina of Lindor's love for her (duet "Dunque io son"). But Bartolo suspects something – he knows that the Count arrived in Seville and that Rosina caught his eye. Therefore he decides to ask advice from a music teacher, Don Basilio, a greedy and corruptible schemer, who in an amazing aria ("La calunnia è un venticello") expresses that in this case the best solution is rumour and slander, thanks to which the unwanted intruder can become ruined.


Almaviva appears under the disguise of calvaryman as advised by Figaro and demands accommodation in the doctor's house (finale "Ehi di casa!"). Pretending to be drunk, he neglects the doctor's certificate releasing him from his obligation to provide accommodation and makes it known that he is even ready to forcefully carry out his will. A silly scrimmage causes more and more noise – bystanders gather on the street outside and finally an alarmed military patrol enters the scene to arrest the bully. However, when Almaviva quietly introduces his real name and title to the leading officer, to Bartolo's surprise, the representatives of the law withdraw in a hurry, giving the Count their honours.


ACT II


However, Almaviva fails to receive accommodation in the doctor's house. Thus he tries his luck once more, this time pretending to be a pupil of Don Basilia named Alonzo, to substitute the ill teacher and give Rosina a voice lesson. The trick seems to work – the pair has the time to exchange a few tender words, when suddenly Don Basilio himself appears. The situation is saved by Figaro, who just arrived to shave Bartolo; along with Rosina and Almaviva he convinces Don Basilio that he is gravely ill and should go to bed this instant. After his departure Figaro finally starts to shave Bartolo, while Rosina and the alleged Alonzo get back to the interrupted lesson. However, they soon forget caution among all the affectionate words, and therefore Bartolo soon realises the situation. Furious, he chases Almaviva and the Barber from his house, locks up Rosina in her chamber, and himself hurries for the notary to get married still on the same day, and in this way prevent once and for all any danger of Almaviva.


Meanwhile, a storm has broken out. In pouring rain Figaro and Almaviva appear in front of the doctor's house and using a ladder they climb up to Rosina's chamber to abduct her. At first she refuses to go, for earlier Bartolo has warned her that the young man named Lindor does not love her, but is only a tool in Count Almaviva's hand. Yet soon it is explained to her that Lindor and Almaviva are the same person. When finally all three decide to flee, they realise that clever Bartolo had the time to steal the ladder. At this moment, Don Basilio serving as witness enters the scene, along with the notary. However, the smart Figaro declares to the notary that he was called here to marry Rosina and Almaviva, and Don Basilio, tempted by the ring of a pouch of gold, places his witness' signature next to Figaro's. Bartolo arrives too late – the marriage contract has already been signed.


Józef Kański, Przewodnik operowy, PWM, 2014
upcoming performances of this genre