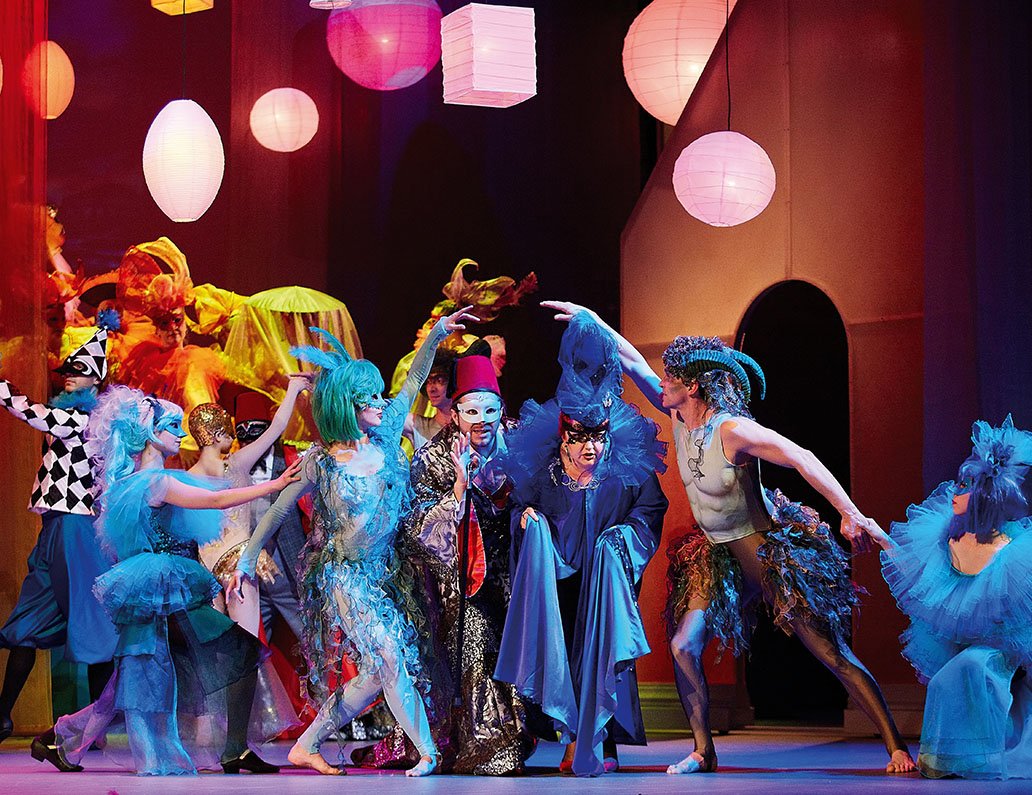 Opera
The Turk in Italy
Opera buffa in two acts
Gioacchino Rossini
Włodzimierz Nurkowski
Tomasz Tokarczyk
2 hours 55 minutes
details
duration
2 hours 55 minutes | 1 intermission
composer
Gioacchino Rossini
World premiere
Mediolan, Teatro alla Scala, 14 August 1814
Polish premiere
Warsaw, 1824
premiere at the Krakow Opera
4 March 2016
language
Sung in the original Italian, with Polish subtitles
description
During the Carnival season, Selim, the eponymous Turk, arrives in Italy in search of entertainment.  In the prevailing merriment and excitement it is no longer possible to tell who is crazy about whom: whether he about the beautiful women that he encounters or they about him, seeking exotic experiences. The constellations of love triangles and rectangles become ever more complicated through a series of misunderstandings, errors, and disguises – all immersed in the element of dance, as is becoming the period of humanity's carefree craziness.


"Il turco in Italia", the comic opera written in 1814 on commission from La Scala by the 22-year-old – and already-famous – composer, has seen a worldwide comeback after a prolonged period of oblivion. The part of Fiorilla has been performed by Maria Callas, Cecilia Bartoli, and recently by Aleksandra Kurzak at the Royal Opera House. The present production, only third in postwar Poland, and first in Krakow, is a promise of great fun – colourful, surprising, and spectacular – with music that is always a delight to hear.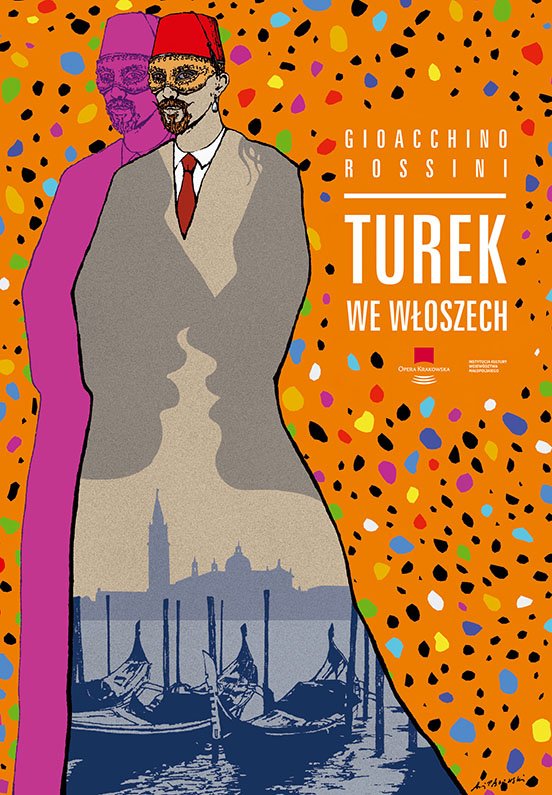 poster by
Andrzej Pągowski
producers
Director: Włodzimierz Nurkowski
Misuc Director: Tomasz Tokarczyk
Set and costume designer: Anna Sekuła
Choreographer and stage movement designer: Violetta Suska
Choir master: Zygmunt Magiera
Lighting design: Dariusz Pawelec
Projections: Paweł Weremiuk

Director's assistant: Magdalena Wąsowska
Assistant music director: Paweł Szczepański
Set and costume designer's assistant: Agata Pinkosz
Choreographer's assistant: Victor Korpusenko
Choir master's assistant: Joanna Wójtowicz
Stage managers: Justyna Jarocka-Lejzak, Agnieszka Sztencel
Prompters: Krystyna Behounek, Dorota Sawka
Soloists' coaches: Kristina Kutnik, Olha Tsymbaluk, Grzegorz Brajner
Choir accompanist: Wioletta Fluda
Ballet accompanist: Ludmiła Tułacz, Damian Pięta
Displayed libretto translated by Dorota Sawka
Category A
1st seats
Marshal's Balcony
140 zł
2nd seats
Amphitheater rows IV-IX
95 zł
3rd seats
Amphitheater rows I-III and X-XII
75 zł
4th seats
Amphitheater side seats and rows XIII - XIV, Right-hand and left-hand side boxes (level 1), Balcony rows I and II
45 zł
5th seats
Balcony rows III and IV
35 zł
ACT I


Carnival in Venice. Street comedians entertain passers-by and encourage them to see their show. Amid the general revelry, one member of the troupe, Zaida, is grieving the loss of her lover, the Turkish prince Selim. The comedians' performance grabs the attention of the Poet, looking for an interesting subject for his work. He documents the event by taking photos and notes. Enter Geronio, complaining about the troubles caused by his young wife, Fiorilla. He would like to meet a Gypsy woman who could tell him the future of their relationship. The actresses, including Zaida, dress up as Gypsies and surround him but instead of a good fortune all Geronio hears is their mockery at his helplessness in marriage. In the meantime, the Poet persuades Zaida to confide in him. Zaida was the love of Selim, a Turkish prince who was going to marry her, but courtly intrigues forced her to flee and seek refuge in Italy. The Poet promises to bring her case to the attention of a Turkish prince who happens to be spending a few days in Venice, namely to ask him to supplicate on the faithful Zaida's behalf with the right person. Neither of them is aware that the visiting prince is Selim himself.


Selim and his train of attendants alight at the wharf. The scene is watched by Fiorilla, Geronio's wife, who instantly attracts the Turkish prince's attention. It takes just a brief exchange of glances for them to go for coffee together. In the meantime, the Poet meets Narciso, Geronio's best friend and Fiorilla's lover, whom she had just managed to avoid, and Geronio himself, who has just seen his wife strolling with the Turk. The Poet rails at the two men dumped by Fiorilla, which makes them want to beat him up.


Fiorilla and Selim's sweet tête-à-tête is abruptly broken up by the sudden appearance of Geronio, followed by Narciso. Fiorilla, however, seems hardly taken aback; she actually manages to humiliate her husband and set another date with Selim.


The Poet finds out that Selim has plans to abduct Fiorilla. To prevent it, he arranges a meeting between Zaida and Selim. That scene is interrupted by the arrival of Fiorilla, hiding behind a mask from both her husband and her lover's pursuit. On seeing Zaida in Selim's arms, she unmasks her face and makes a wild scene, which is again closely noted by the sensation-thirsty Poet. Total confusion ensues.


ACT II


The Poet gets Geronio drunk to provoke him to act irresponsibly. Enter Selim with a proposal: as is the Turkish custom, he will purchase Fiorilla from Geronio. Geronio is outraged at this and the men begin to quarrel. Selim threatens to abduct Fiorilla. In the meantime, Fiorilla challenges Zaida to a duel: let Selim choose one of them. The Turk is hesitant; he would gladly have both of them. Finally Zaida leaves defeated and Fiorilla triumphs, even though, as it later turns out, she has no reason to do so. For the time being, she makes up with Selim after the row they have had. They exit embracing each other.


The Poet informs Geronio that his wife and Selim are to meet during the masked ball and intend to board a ship bound for Turkey afterwards. He persuades Geronio to dress up as a Turk and, by duping Fiorilla with his disguise, abduct her himself while theTurk will be given Zaida dressed up as Fiorilla. The eavesdropping Narciso resolves to don Turkish costume as well and abduct Fiorilla. Geronio procures a costume but before he manages to dress up he soliloquises about his wife abusing her husband's goodness.


During the masquerade, three Turks meet two Fiorillas. Taking Zaida for Fiorilla, Selim professes his love to her and tries to persuade her to elope with him to Turkey. Narciso professes love to the real Fiorilla who, mistaking him for Selim, lets him seduce her. Geronio feels disgraced on finding out that his wife has been cheating on him with his best friend and that he has long been a cuckold. The Poet advises him to threaten to divorce Fiorilla, which he does. Fiorilla instantly 'comes to her senses', realizing that she is facing the loss of her status and money. Deeply moved, Geronio accepts her remorse. Enter Selim and Zaida, also reconciled. Everyone is happy, especially the Poet, who has succeeded in bringing his 'work' to a happy end.


Prepared by Elżbieta Tosza
Jacek Marczyński, "Rzeczpospolita", 7.03.2016
'Il turco in Italia' is not an easy opera to perform. Here Tomasz Tokarczyk perfectly haldled the orchestra; next to Katarzyna Oleś-Blacha, we can see a parade of funny characters: Łukasz Goliński (Selim), Grzegorz Szostak (Geronio, Fiorilla's husband), and last but not least Mariusz Godlewski as the Poet who is behind the entire erotic intrigue, showing all his natural vocal charms.
Mateusz Borkowski, "Dziennik Polski", 7.03.2016
'Il turco in Italia': the stage undoubtedly belongs to Katarzyna Oleś-Blacha, who shows that extremely difficult coloratura parts are a piece of cake for her. By the way, her Fiorilla proves that she a fine comedian too. Just like her partner Grzegorz Szostak in the role of the good old Geronio. The baritone Łukasz Goliński as the title Turco – Selim is also noteworthy".
Anna Kańska Małachowska, http://www.malanart.blogspot.com, 7.03.2016
A carnival, a colourful extravaganza, pranks and fun ruled the Kraków Opera stage during the Friday premiere of Rossinini's opera 'Il turco in Italia'. This work is not in the canon of the most popular operas, so we owe even more thanks to the Kraków Opera ensemble for expanding the repertoire of our musical theatre by reaching for less known works. Włodzimierz Nurkowski, who directed the performance, created a colourful parade of funny figures inspired by the Venice carnival; they reveal human imperfections and vices in a humorous manner. He was helped by two ladies: Anna Sekuła (stage design and costumes) and Violetta Suska (choreography and stage movement). The background multimedia projections added a special flair to the whole production (…). The audience had a good fun watching comical dialogues between Fiorilla and Geronio constantly teasing each other, the endeavours of hesitant Selim, the suffering of Narciso, the abandoned lover, and the  Poet's tricks to move forward the intrigue as its spiritus movens. The artists spared no effort to meet the challenge of an opera buffa, showing their comical talents as appropriate for this genre. Judging from the audience's reaction they totally succeeded (...). Katarzyna Oleś-Blacha in the role of Fiorilla captivated with the vocal charm showing her coloratura potential in full (...). Grzegorz Szostak as the cuckold Geronio is absolutely charming as a helpless husband, equally accomplished as a singer and as an actor. A big hand for him! (...) Andrzej Lampert as Narciso and Mariusz Godlewski in the role of the Poet took up their task maintaining a healthy distance from themselves, taking it with a pinch of salt. The Kraków Opera chorus, as usual perfectly prepared by Zygmunt Magiera, gave a nice performance, not to forget the ballet. The orchestra under the baton of Tomasz Tokarczyk played Rossini's music finely and lightly (...). The new production on the Kraków Opera repertoire will certainly attract hosts of music aficionados to Lubicz.
Dorota Szwarcman, http://szwarcman.blog.polityka.pl, 5.03.2016
(…) 'Il Turco'  is full of gags –  a slapstick comedy at its best with its fast-paced plot, a colourful extravaganza and live acrobatics on stage. But first of all it is a vocal challenge. Katarzyna Oleś-Blacha is in the lead in the role of frivolous Fiorilla, the flirtatious young wife on an old husband. 

Together with her partner  Grzegorz Szostak in the role of her husband Geronio, they create an irresistibly amusing duo – both showing huge comical talents. But it was her who particularly captivated the audience with her masterly vocal cascades. (...)  Łukasz Goliński, the Gdańsk-based baritone, associated with Opera Nova in Bydgoszcz, was a remarkable Turco. The popularand much liked Mariusz Godlewski this time revealed a completely different emploi than usual (he is known for the roles of unhappy lovers or cold-hearted bastards). This time he plays a poet who organises the plot, showing a sense of humour, as does Andrzej Lampert in the role of Narciso, a lover Fiorilla has dumped.  (…) The stage director Włodzimierz Nurkowski has made productions of very different genres, but as can be seen, he has a gift for comedy. Anny Sekuła's rainbow-coloured stage design and costumes combined with Violetta Suska's choreography re- creating the Venice carnival, were genuine fireworks, a pleasure for the eye. No bizarre effects – just a good laugh and fun.
upcoming performances of this genre