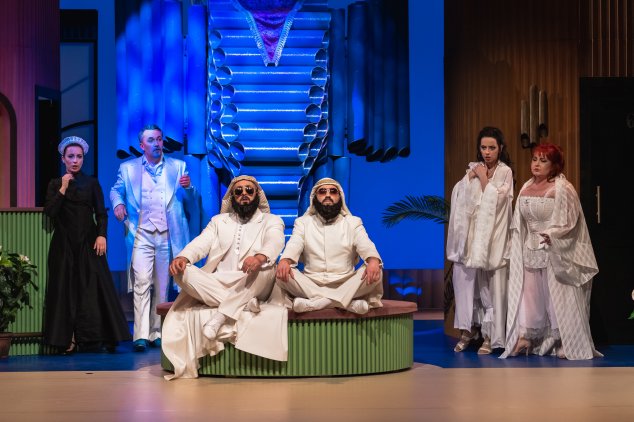 The premiere of Così fan tutte by Mozart!
The premiere of Così fan tutte by Mozart!
One of the most important operatic works by Wolfgang Amadeus Mozart, directed by Jerzy Stuhr, will premiere on March 12 (6:30 pm).
"This opera glistens like a wonderful bubble with the colours of a buffoonery, parody, genuine and feigned feeling. All these are enhanced by the colour of pure beauty" wrote Alfred Einstein, Mozart's biographer.
Entangled in plotting
On the one hand, Così fan tutte is a classic opera buffa, telling about the imperfection of male-female relations, stretched between the idea of love and sensual temptations. On the other hand, it is flavoured with the bitter truth about human nature. The libretto was created by Lorenzo da Ponte, the author of the lyrics for the earlier operas, i.e. The Marriage of Figaro and Don Giovanni. The key element of the tale is the exchange of partners between couples of lovers, and testing the fidelity of women by men in the name of a bet whether of not "they all do that."

 

The performance is directed by Jerzy Stuhr, an actor, director and educationalist, expert in Italian culture and language. This is another production by this creator for our theatre, after enthusiastically received and awarded Don Pasquale and The Barber of Seville. As the artist reveals, the staging will be set in the realities of the 1920's, on Italian Adriatic beaches.

 

"Così fan tutte focuses on the topic of morality, it carefully observes human nature. It tells about tolerance, forgiveness, as well as discusses a contemporary topic of people who play on others for their own benefit. (...) Everything starts very innocently, jokingly, and then, as in Witkacy's They, the frivolous play becomes something extremely serious" adds the director.

 
The musical direction of the performance is exercised by Tomasz Tokarczyk. Natalia Kitamikado is responsible for stage design, Maria Balcerek – for the costumes, Gabriela Kubacka – for stage movement and Dariusz Pawelec – for the light design.
 
The main roles will be played by the soloists of the Krakow Opera: Katarzyna Oleś-Blacha (Fiordiligi), Agnieszka Cząstka-Niezgódka, Monika Korybalska (Dorabella), Paula Maciołek (Despina), Michał Kutnik, Adam Szerszeń (Guglielmo), Jarosław Bielecki, Adam Sobierajski (Ferrando), Sebastian Marszałowicz (Don Alfonso), as well as artists invited to cooperate: Agnieszka Adamczak (Fiordiligi), Zuzanna Caban (Despina), Adrian Domarecki (Ferrando) and Robert Gierlach (Don Alfonso).
 

The subsequent performances are scheduled on March 13, 14 and 16 (6.30 pm).
 
The tickets are available online or at the Opera Box Office.