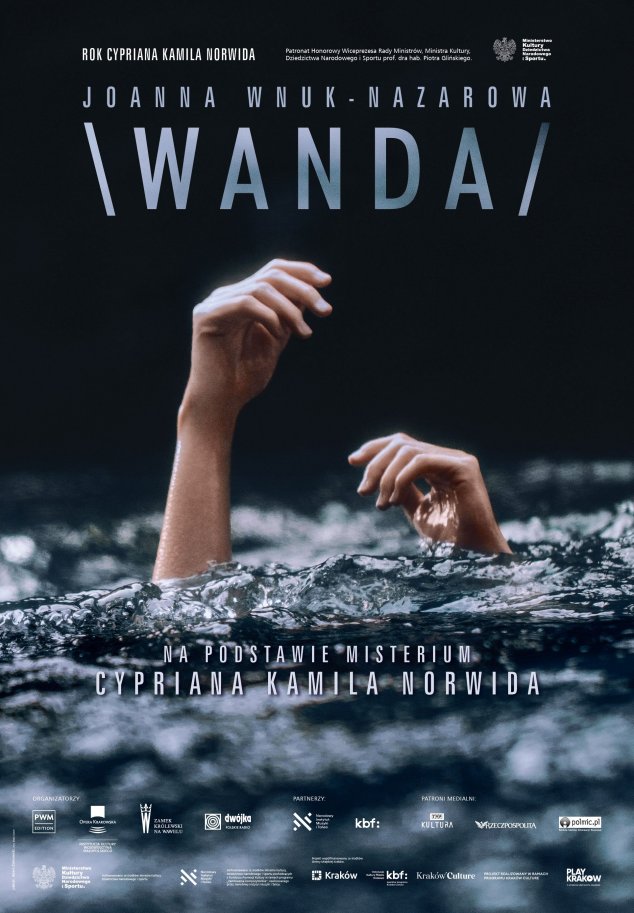 World Première of Joanna Wnuk-Nazarowa's "Wanda" to Celebrate the Year of Norwid
World Première of Joanna Wnuk-Nazarowa's "Wanda" to Celebrate the Year of Norwid
In the Year of Cyprian Kamil Norwid, Polskie Wydawnictwo Muzyczne and the Kraków Opera, together with the Polskie Radio Programme II and the Wawel Royal Castle, have prepared the world première of Joanna Wnuk-Nazarowa's opera, "Wanda", based on the mystery play by Cyprian Kamil Norwid.
The world première will take place on 10 September and the performance will be re-played on 11 September at the Arcade Courtyard of the Wawel Royal Castle. The event will be one of the major celebrations for the "Year of Cyprian Kamil Norwid" announced by the Sejm of the Republic of Poland. Professor Piotr Gliński, Ph.D., Deputy Prime Minister, Minister of Culture, National Heritage and Sport holds honorary patronage of the event.

Joanna Wnuk-Nazarowa says: My family has greatly valued the works of Cyprian Kamil Norwid, our fourth poet-prophet, for a number of years. My mother loved Norwid and throughout the German occupation, during her numerous moves, she protected the bulky volume with the works of this author, purchased before the war. In turn, my fascination with "Wanda" started in the music school, where Jadwiga Halina Gallowa, an excellent actress and legendary lecturer at the Kraków theatre school, organised the "Living Word Club." During the classes, we worked on the text of the mystery play and I played Wanda. I have been carrying the text inside me all these years and I decided - as a composer brought up in Kraków, that is the place where the events described by Norwid took place - to interpret it musically.

The choice of time and place for the world première of the work is not accidental. The Wawel Royal Castle and its foreground is the location where the plot of Norwid's mystery play takes place. It is also there, in the Crypt of National Poets at the Wawel Cathedral that the symbolic burial of Cyprian Kamil Norwid was held twenty years ago, in 2001.

"Wanda" 10 and 11 September 2021, at 8.30 p.m. Arcade Courtyard of the Wawel Royal Castle.

Tickets will be available at the Ticket Office of the Kraków Opera on-line on the Opera's website from 23 August 2021 from 10.00 a.m.


More information about the performance is available at the following address: www.opera.krakow.pl

Project co-financed from the funds of the Minister of Culture, National Heritage and Sport deriving from the Culture Promotion Fund as part of the "Zamówienia kompozytorskie" programme implemented by the National Music and Dance Institute.