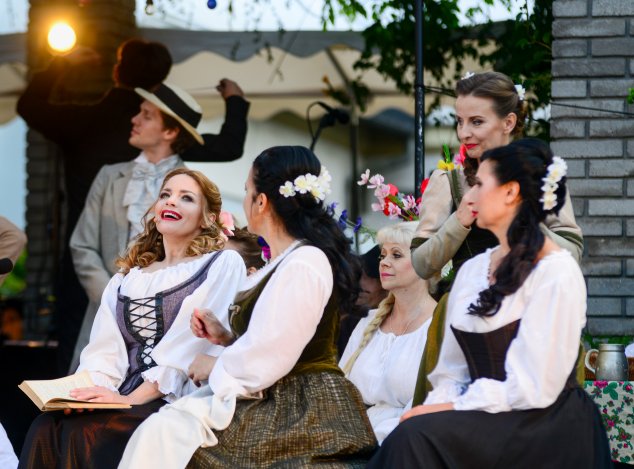 Two Faces of "The Elixir of Love"
Two Faces of "The Elixir of Love"
On 9th and 10th July our theatre restaged Gaetano Donizetti's "The Elixir of Love" – a genuine crown jewel of the Italian bel canto style and opera buffa. Due to violent storms, one of the performances was transferred to the Opera House, while the other, owing to more favourable weather conditions, took place, just as planned, in the beautiful scenery of the Botanical Garden of the Jagiellonian University. Thus, the Kraków audience could follow the story of Nemorino and Adina in one of two versions – the theatrical and the open-air one.
In the main roles of both performances we could hear the soloists of the Kraków Opera: Adam Sobierajski (Nemorino), Iwona Socha (Adina), Michał Kutnik (Belcore), Dariusz Machej (Dulcamara) and Agnieszka Cząstka-Niezgódka (Gianetta). The artistic direction of the performance was assumed by Bogusław Nowak, Bożena Pędziwiatr, Janusz Wierzgacz and Wioletta Maciejewska, while the Orchestra, Choir and Ballet of the Opera were conducted by Jurek Dybał.
 
Ed. Lesław Czapliński writes about the show on 9th July as follows:
"Adam Sobierajski dealt with the role of Nemorino successfully, bringing its lyrical aspects to the fore, and demonstrating the musicality of his brilliant cavatina "Una furtiva lagrima". Iwona Socha, with her noble voice and authentic stage temperament, created a credible character of Adina, recklessly toying with the feelings of her admirers. An especially captivating part of her performance was the ability to form cantilena phrases characteristic of the art of bel canto, although the artist seems to be slowly turning to more difficult parts, such as lirico spinto or even dramatic ones (...). Michał Kutnik is distinguished by a great verve and sanguinity on stage, focusing on demonstrating the comic nature of Belcore (...). Dariusz Machej has done likewise playing the role of the charlatan Dulcamara, who offered ordinary wine to naive peasants as a panacea for various ailments, including the eponymous love potion, and who was moving from place to place before his fraudulent practice was revealed."